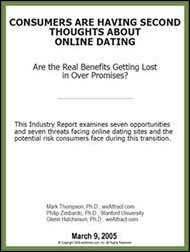 (PRWEB) March 9, 2005
weAttract.com, an independent research and development firm, released a report today identifying seven opportunities and seven threats facing online dating sites and the potential risks to consumers. weAttract.com and Adviser, Philip Zimbardo, Ph.D., Stanford University, argue online dating sites are over promising and under-delivering. The full report may be viewed at http://www.weattract.com.
Threats
Persuasion techniques and the promises they support are the most noticeable aspect of the industry. We are concerned the industry has applied more social psychology research to selling products than making products worth selling. "As a psychologist, I am concerned when I see commercials and ads of all these happy couples without any reference to this not being typical results," notes Dr. Mark Thompson, President & C.E.O., weAttract.com.
Some online dating sites have moved to "arranging marriages." There is no evidence that online dating or scientific psychology is able to pair individuals who will enjoy happy, lasting marriages. If one trusts the statistics offered by the sites, simple calculations reveal the odds of finding a spouse online are very low. "A claim that a site can deliver your "soul mate" or the "love of your life" probably does a lot of damage to many people. What is frustrating to most of us, may be particularly injurious to those who are already lonely and hurting," says Dr. Glenn Hutchinson, Vice President of Scientific Development, weAttract.com.
Opportunities
Dr. Zimbardo comments, "Online dating sites carry a unique responsibility - they directly intervene into a user's personal life. However, with this comes an opportunity to educate and help users develop skills for long-term successful relationships."
The report includes a call to action for the industry to establish some basic guidelines to protect the consumer. "We are asking all online dating companies to participate in a forum in June to begin this process. There are enormous opportunities for the future, but we will never reach them if we pretend we're already there," says Dr. Mark Thompson.
###