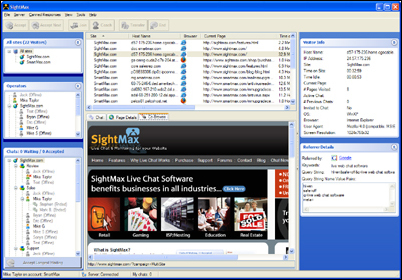 Tulsa, OK (PRWEB) March 10, 2005
SmartMax, a leading developer of Internet Server Software Solutions, today announced that their new SightMax Live Chat and Monitoring Software has surpassed first quarter sales goals. As part of the company's strategy, SightMax is offered as a live chat solution for dedicated server customers as well as hosting companies which wish to expand product offerings and increase company revenue. SightMax is currently operating in a variety of industries from various fortune 500 companies, retail, real estate, gaming, ISP/Hosting, financial, broadcast, software/hardware, healthcare, call centers, insurance and prominent higher education universities.
"We are extremely pleased with the positive reception that SightMax Live Chat has received to date. By surpassing our initial sales goals within the first two months of this quarter it is proving to us that SightMax is on the right track. Every effort has been have made to develop a live chat product that is well written, feature rich with robust functionality and cost effective for businesses of all sizes; I feel that this has been accomplished" says Eric Weber, President of SmartMax.
SightMax Live Chat allows your representatives to chat in real-time with website visitors, supplying your business with the tools needed to make friendly and personable contact with each and every visitor that comes to your website. This type of hands-on approach is an essential component to any e-commerce business and marketing strategy today, as studies show, website visitors are three times more likely to make a purchase if they interacted with a live chat representative while online.
You wouldn't operate your store without sales people and your website shouldn't be any different. With SightMax, you are able to treat website visitors just the same as someone walking into your retail store; you can greet them, ask if they need assistance, browse with them, and lead them where they want to go. You can even send a promotion or discount to them while they are 'looking' around. With this type of real-time interaction you are reaching out to your visitors, providing a quality experience and ultimately, turning visitors into repeat customers. Further, SightMax utilized as both a sales and support tool, helps to increase sales, conversion rates and ROI, while decreasing shopping cart abandonment and overall monthly operational costs.
Cost conscious, SightMax is priced for budgets small to large. A one time purchase, there are no monthly lease costs; you buy and you own it, with no further financial obligations.
Real-time website visitor interaction with SightMax Live Chat helps you to increase sales, conversion rates, and ROI.
Utilize your website for more than just selling. SightMax Live Chat helps you to decrease telephone sales and support costs with real-time online assistance.
Target and Focus Marketing Dollars with Built in "Referrer" Links
Adjust PPC (Pay-per-click) search engine promotions with built-in referrer links in SightMax Live Chat showing you exactly from where your website visitors are originating.
View All Website Activity with Real-time Monitoring
Built-in real-time monitoring in SightMax Live Chat gives you the "who, what, where" of every website visitor.
Built-in Instant Messaging (IM) for private company-wide communication
SightMax Live Chat has a built-in IM (Instant Messaging) feature which lets you contact and chat with that agent privately (locally or company-wide).
Add SightMax Live Chat to your website free for 14 days. SightMax guarantees immediate increases in online sales, backed by a 30-day money back guarantee. Visit http://www.sightmax.com for more information, or to speak with a live representative.
About SmartMax
SmartMax is a leading developer of Internet Server Software solutions. In December 2004, the company released their latest product, SightMax Live Chat and Monitoring software. Established in 1992, SmartMax is a privately held corporation headquartered in Tulsa, Oklahoma (USA). The company began with the creation of their award-winning ExcaliburBBS for Windows™. ExcaliburBBS was the first graphical BBS for Windows™ and garnered many accolades, including being named as a Windows Magazine Top 100 Winner. In 1996, SmartMax entered into the Internet Server arena with the debut of its highly successful MailMax Internet Email Server for Windows™. The company continues its commitment to provide feature-rich, secure and reliable software products to companies small and large.
###