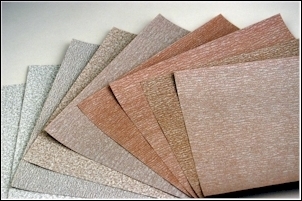 (PRWEB) March 27, 2005
Not long ago founder, production manager and resident inventor of Beall Tool Company, J.R. Beall, ran out of the 220 garnet sandpaper he generally uses in the shop and decided to try, in its place, some sample paper that he had picked up at a recent trade show. He was amazed: never had he used sandpaper which cut so fast or lasted so long. It made sanding, never one of his favorite tasks, a positive joy: and he set out for his local "big box" store in search of more. Its price- at $4.00 for three sheets- was more than he had ever paid for sandpaper, but he was so impressed with the quality that he bought it anyhow, resolving at the same time to add it to the Beall Tool Company Catalog and make it available to customers at a better price.
"The manufacturer, we discovered, was Norton, one of two sandpaper makers left in North America. When we contacted them, we were told that the sandpaper we were seeking was a new, patented product but that a differently colored industrial version was available that we could carry. The Norton people were helpful and easy to work with and we are now a distributor of their coated abrasives. The paper we are offering here is No-Fil Magnum A275™. Its heat-treated aluminum oxide grains are bonded to a strong, but flexible paper backing, then coated to prevent loading. The paper is un-dyed which allows the abrasive grains to better adhere to it and also eliminates the possibility that any color will be transferred to the work. In addition to cutting up to three times faster and lasting nearly three times longer than garden variety paper, it is also waterproof. Even though you may not do much wet sanding with 80 grit, you can be assured that your paper will not curl up in the humid days of summer."
Initially Beall will be offering only 9" x 11" cut sheets, but if there is a demand, they will stock disks as well. Best of all, you can purchase the sandpaper from Beall for much less than you would pay for it at the "big box."
About Beall Tool Company :
The Beall Tool Company was founded in 1982 to market the Beall Wood Threader, a router fixture for making threads on wooden dowels. The Threader had worked well for them, they reasoned – perhaps it would be useful to other wood workers, as well, allowing them in the bargain to supplement the income from their wood working business.
"We couldn't imagine then, that many people would be interested in such an arcane process as wood threading, and expected the market to be saturated within a couple of years. Now, twenty years, one book and thousands of threaders later, the Beall Wood Threader is still going strong, joined in our catalog by such project-inspired products as the Beall Wood Buff, the Hinge and Lock Wizards and the Inclinometer." - J.R Beall
###