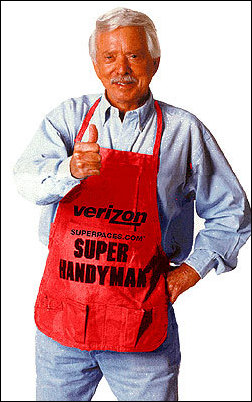 DALLAS, TX (PRWEB) March 28, 2005
Verizon SuperPages.com and Super Handyman Al Carrell will share energy saving tips and home improvement ideas in the second of six home improvement project guides available on http://www.superpages.com/Release/index.htm, the premier online shopping site.
For example, Carrell says door weather stripping, window weather stripping and attic insulation are vital to saving energy in the home.
"Spring is a great time to take an energy tour of your home and make sure outside air isn't getting inside … and vice-versa," Carrell says. "Stop air exchange by caulking and weather stripping any cracks or gaps you find around windows and doors. You can find a wide range of products at your local hardware store."
However, Carrell says one of the easiest ideas to save energy money at home is by properly adjusting the thermostat.
Carrell, a nationally known expert on home improvement and repair including door weather stripping, window weather stripping and attic insulation, served for eight years as spokesman for The Home Depot.
In addition to recommending do-it-yourself weather stripping, Carrell says homeowners can install attic insulation themselves or call a professional installer to help.
Simple furnace and air conditioning maintenance, such as replacing filters and cleaning compressors, can save energy dollars, Carrell says. He also suggests having a professional heating and air conditioning technician check home systems twice a year. These are easily found in a search of local services on SuperPages.com, or in your Verizon yellow pages, Carrell says.
In addition to saving energy at home, other topics covered in the six-week do-it-yourself series on Verizon SuperPages.com include plumbing, painting, furniture refinishing, patio deck building and how to assemble a basic tool kit.
Carrell's newspaper column, "The Super Handyman," appears in about 100 cities including Boston, Chicago, Dallas, Fort Worth, Houston, Phoenix, Tucson, Orlando, Fort Wayne, St. Louis and Nashville. He also has a weekly radio show in the Dallas-Fort Worth market.
About Verizon SuperPages.com
Verizon Information Services, a division of Verizon Communications Corp. (NYSE: VZ), is the nation's most advanced provider of yellow pages and related shopping information. It has $3.6 billion in revenues from products including: Verizon SuperPages yellow pages; Verizon SuperPages.com (http://www.superpages.com), the nation's number 1 Internet directory and a leading online shopping resource; and the SuperPages On the Go information directory offered through Verizon Wireless Get It Now services and on other wireless carriers. The company is the largest publisher of Hispanic directories in the U.S. and the first to provide a Hispanic online shopping resource (http://www.superpages.com/espanol).
###