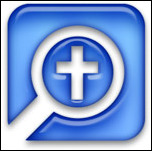 Bellingham, WA (PRWEB) March 29, 2005
Logos Bible Software announced today that a Macintosh version of the company's digital library software is slated for release in December 2005, making thousands of Bible reference eBooks available to Macintosh users.
"Literally thousands of digital titles never before available on the Mac will be available the day we ship Logos Bible Software for the Mac," said Bob Pritchett, president, Logos Bible Software. "Pastors, scholars, and students of the Bible can build their own digital library from a growing list of 4,000-plus titles from a hundred different publishers."
The Macintosh version will read the same book files as the PC version, making 14 years of digital book publishing instantly available to Mac users. Categories include Bibles, original language texts, morphological databases, commentaries, dictionaries, lexicons, grammars, maps and more. Electronic books can be acquired in money-saving library collections or unlocked individually.
"If you're serious about studying the Bible, these are the books you use," said Pritchett. "Adding Macintosh compatibility gives us the ability to deliver them to virtually any personal computer in the world."
The move will incur significant development costs, but the company believes the investment is worth it.
"Apple's growing market share, recent technological innovations, and dominance in the educational sector combine to make this a good opportunity for us," said Pritchett. "We have become increasingly focused on the academic market, and in that space it's a real liability not to have a Macintosh product."
Additional details and an email list sign-up are available at: http://www.logos.com/mac
About Logos Bible Software Products
Logos Bible Software Series X includes five base collections, each tailored for the needs of a specific category of user: Scholar's Library, Pastor's Library, Original Languages Library, Bible Study Library, and Christian Home Library. Logos also offers an all-Spanish collection, Biblioteca de Estudio Bíblico, and two new bilingual collections, Biblioteca Académica Bilingüe and Biblioteca Pastoral Bilingüe.
About the Company
Logos Bible Software, a privately held corporation in Bellingham, Wash., is the leading publisher of high-end, award-winning, multilingual Bible software. The company serves church, academic and lay markets, striving to bring the best in software innovation to Christians worldwide. Logos can be found at: http://www.logos.com
Contact
Daniel Foster (360) 685-2314
Dan Pritchett (360) 685-2335
###