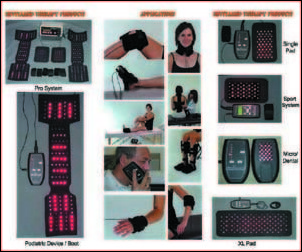 it's like getting the Lexus model for the price of a Chevy
(PRWEB) March 31, 2005
LymphaCare's Revitamed Therapy division has seen a steady increase in sales of both patient and clinical models of the RevitaMed Infrared Therapy System. http://www.infraredtherapy.com
Patients and therapists that have seen or evaluated the RevitaMed System for treating chronic pain and circulation problems tend to be surprised and impressed. Most have been unaware that there was any competition or alternative to the more well known brand name of Anodyne® Therapy. http://www.anodynetherapy.com
Recently a physical therapy clinic in Oregon that was evaluating an Anodyne® Therapy system in their facility, decided to purchase the RevitaMed Therapeutic System based on the information provided by LymphaCare and their knowledgeable consultants without even an evaluation. The Oregon clinic is seeing excellent outcomes for their neuropathy patients http://www.neuropathy.org. They are even using the RevitaMed to successfully treat the painful medical condition known as shingles http://www.familydoctor.org/574.xml. Like many busy physical therapy facilities, the therapists are utilizing the sizeable "boot" pads to treat large surface areas of the back and leg. This same Oregon clinic has since purchased a second RevitaMed Professional System. http://www.infraredtherapy.com
RevitaMed's Professional system tends to cost about 20%-30% less than the Anodyne® Therapy Pro model. Physicians, Chiropractors, Physical & Occupational Therapists, and other professional users love the size of the pads, especially the unique boot pads, which cover the entire foot & ankle, or a large surface area when laid out flat.
Patients have also been discovering why RevitaMed works so well. Besides the low financial investment, they have a choice of getting the standard or boot pads in the home and/or portable units. The Anodyne® Therapy system http://www.anodynetherapy.com is priced at $2995.00 for a new home system, while the RevitaMed is well over 50% less in price depending on the pad combination. Many patients don't qualify under their insurance, or have the time to go to physical therapy. So they are thrilled to invest in a RevitaMed at a more reasonable price with much larger more powerful infrared pads.
Some customers have recently pointed out that the equine or Equilight veterinary product affiliate of Anodyne® Therapy http://www.anodynetherapy.com, sells a device similar to the $2995.00 patient home unit for only $2395.00 on the http://www.equilight.com/products.htm website. That's a $600.00 difference for what appears to be the same product, but with an equine logo.
The RevitaMed Infrared Therapy http://www.infraredtherapy.com consultants at LymphaCare have educated customers by addressing the questions and concerns for those evaluating Infrared therapy pad treatment systems. RevitaMed plans on being around for many years. Research and development is in the process of publishing several clinical studies, and enhancing the current product line to address customer needs and requests.
LymphaCare has been able to meet their sales goals, by educating customers on the differences between Anodyne® Therapy and the RevitaMed Therapy. As well as insurance reimbursement issues. It helps that RevitaMed's has excellent pricing, and 30 day money back guarantees for neuropathy patients.
Diabetes, chronic pain, neuropathy, fibromyalgia, and finding a great product at a fair price: all of those come into play. The neuropathy population has many of those things, and any patients with these symptoms who are cost sensitive and demand state of the art technology would be good candidates for the RevitaMed. One LymphaCare employee states, "it's like getting the Lexus model for the price of a Chevy". The RevitaMed Therapy System meets FDA guidelines and does not require a prescription.
RevitaMed products can be found by calling LymphaCare at 800-288-1801.
# # #