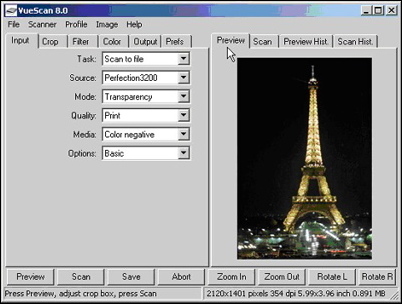 Phoenix, AZ (PRWEB) April 6, 2005 -
Hamrick Software, the developer of the world's most popular scanning software for consumers and professionals, has released VueScan 8.2.03, its award-winning program that enables users to more easily produce better looking digital images from color snapshots, microfiche and microfilm, negatives, slides, and paper documents.
VueScan 8.2.03 adds integrated Optical Character Recognition (OCR) capability that enables users to scan and process text as well as scan graphics within one application. Using VueScan, text files - that can be edited with any word processor - can be produced from scanning paper, microfilm and microfiche. In addition, VueScan's OCR offers a Color/Invert option for OCR of white text on a black background.
OCR is included with the Standard Edition of VueScan ($49.95 USD) and the Professional Edition ($89.95). Multi-user licenses are available. A fully functional, trial copy of VueScan can be downloaded from http://www.hamrick.com/.
"VueScan with OCR is an tremendous value, notes Ed Hamrick, president of Hamrick Software. "Most OCR applications are expensive and are not integrated with any scanning software. OCR is included in VueScan at no extra charge and does not require installation of any other software
VueScan with OCR is available for Mac OS X, Windows and Linux. VueScan automatically adjusts images to optimum color balance that reduces the need to manually do this in Photoshop. VueScan includes built-in color calibration of scanners, producing colors that look true to life.
Supporting more than 100 brands of negative film, VueScan offers options for scanning faded slides and prints; batch scanning, IT8 color calibration and other advanced scanning features, including PDF output. For a detailed listing of VueScan features see: http://www.hamrick.com/abo.html.
Based in Phoenix, AZ, Hamrick Software was founded in 1991. Its first product was VuePrint, an easy to use JPEG viewer for Windows that for many years was the recommended image viewer for AOL, with more than 100,000 users. In 1998, the company first released VueScan, a program for scanning with flatbed and film scanners with more than 110,000 users all over the world.
For more information, contact Hamrick Software,
4025 E. Chandler Blvd. Suite 70-F16, Phoenix, AZ 85048. Phone: (480)
282-8032; Fax: (480) 993-2297;
E-mail: support@hamrick.com
Media/Editor Contact
Bill Gram-Reefer
925-215-8463
reefer@worldviewpr.com
# # #