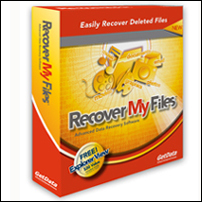 RecoverMyFiles creates a new product category in file recovery for the US market that has not been available in retail stores. It's the perfect tool for customers who need to easily recover deleted files. As an added bonus, when you purchase RecoverMyFiles we've bundled GetData's ExplorerView which allows for the instant preview of files from within Microsoft Explorer
(PRWEB) April 7, 2005
GetData Software Development Company's RecoverMyFiles™, already in retail markets in six European territories and Japan, goes into around 1,000 retail stores across America next week including CompUSA, Fry's Electronics and Micro Center.
It recovers more than 100 different software file types.
It is the first Australian software product to get mass market distribution in the highly competitive US home and business retail market with a RRP of US$ 69.95.
"This is a massive breakthrough for us. It's now a well tested and proven product and we're told there is nothing else like it on the US retail market. RecoverMyFiles™ is fast and easy. No technical or data recovery software skills are required. You can use it to perform hard drive data recovery, or recover deleted files from floppy disk, zip drive, compact flash, smart media or other removable media," explained Graham Henley, a director of the Sydney based software development company, which already has more than 40,000 customers worldwide.
"Run the program and you can view your deleted files in the viewing window. If you can see your deleted files then data recovery is quick and easy."
"RecoverMyFiles creates a new product category in file recovery for the US market that has not been available in retail stores. It's the perfect tool for customers who need to easily recover deleted files. As an added bonus, when you purchase RecoverMyFiles we've bundled GetData's ExplorerView which allows for the instant preview of files from within Microsoft Explorer," said Royce Bybee, President, Channel Access, GetData's American partners.
RecoverMyFiles™ is compatible with Windows XP and works with FAT 12, FAT 16, FAT 32 and NTFS file-systems. It has specific support for more than 100 file types including deleted Zip, PDF, AutoCAD, Photoshop and tax files.
The software was developed by Henley, a former Federal forensic investigator, and John Hunter, a former State Police forensic investigator, who have until recently been involved in investigations of collapsed international corporations, together with physicist Dr. Brett Hunter, over the past two years.
"It was a natural progression" says John Hunter. "Computer forensics was about finding the I.T. evidence that no-one knew was there. We always believed our data recovery techniques had commercial possibilities. As long as a deleted file hasn't been overwritten it can be recovered. We have developed a unique approach that means our data recovery engine can find deleted files that conventional programs would never know existed".
RecoverMyFiles is GetaData's lead product in a suite of eight products the company has developed, including ComputerSecurityTool, ExplorerView, RecoverMyPhotos and RecoverMyEmail. These products can be viewed and purchased off http://www.getdata.com.
John Hunter spent nine years as a New South Wales Police Officer attached to the Special Technical Investigations Section as a senior computer forensics examiner and then with PricewaterhouseCoopers Asia Pacific Computer Forensics Team.
Graham Henley has eleven years law enforcement experience in the Australian Federal Police, five of those in the Computer Crime Unit. After leaving law enforcement Graham spent five years as Director of the PricewaterhouseCoopers Asia Pacific computer forensics practice.
Dr. Brett Hunter is a PHD Nuclear Physicist formally with Argonne National Laboratory, USA and the Australian Nuclear Science and Technology Organisation (ANSTO). Dr Hunter is the author of more than 100 scientific research papers.
###