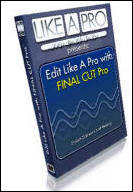 Philadelphia, PA (PRWEB) April 7, 2005
Like A Pro, LLC., - a creator of industry specific software training videos, today announced the wide release of "Edit Like A Pro with Final Cut Pro 4 HD", a 2 DVD set offering nearly 5 hours of in-depth training for the popular Non-Linear Editing software package, Final Cut Pro. Edit Like A Pro with Final Cut Pro 4 HD let's beginner and intermediate users of Final Cut Pro software -- or Advanced users who are migrating to the Final Cut Product family -- acquire the skills necessary to start editing on FCP software simply by following the project based, full-motion video tutorials.
Currently available at http://www.LikeAProMedia.com, "Edit Like A Pro with Final Cut Pro 4 HD" has just opened its distribution to value-added resellers, accredited schools and universities with tremendous results.
"The key ingredient to Edit Like A Pro with Final Cut Pro 4 HD's effectiveness is the project-based training and kinesthetic leaning techniques used as a basis for instruction. Instead of a "Survey of Features" tutorial, the training material in Edit Like A Pro with Final Cut Pro 4 HD is presented using the same workflow that 90% of all editors would use when executing a project in a professional environment. This proven approach to software training has grabbed the attention of educators world-wide - Edit Like A Pro with Final Cut Pro 4 HD is poised to become part of the core curriculum for several well know major universities and film schools."
Edit Like A Pro with Final Cut Pro 4 HD walks the user through a typical editing project: capturing and organizing media, editorial problem solving, audio sweetening, titles, F/X, color correction, and both tape-based and digital file output.
As a bonus, Edit Like A Pro with Final Cut Pro 4 HD also includes tutorials for Motion and Garage Band.
With nearly 5 hours of instruction, Justin Paul, 10-year veteran editor and instructor for Edit Like A Pro, was particular about the way the tutorials were to be presented. "It's hard to watch 5 hours of anything, let alone training material. So, from the moment we started developing the courseware, we committed to making the tutorials 'A little on the light-hearted side'".
To that end, the team spent several weeks writing, shooting, and editing a short film that's used as the master project for the tutorials. One of the short's highlights is a brief kung-fu inspired scene where an instructor squares off against a 6' 10"martial-arts actor dressed in a Rabbit Suit.
"We realize that our course material is, well, a 'wee' bit different than what editors are used to, but in the final analysis, the feedback we've received from customers has been wonderful!"
Robin Cowie, Producer of the Blair Witch Project, and long-time editor remarked "It's so much fun you ALMOST forget that you're learning so much".
"That", says Andy Jenkins, CEO of Like A Pro "is exactly the kind of response we were shooting for".
About Like A Pro, LLC: Founded by industry professionals, Like A Pro is dedicated to reducing the learning curve of today's advanced Television and Film Post Production Software. With over 30 years combined industry experience, Like A Pro's members have a proven track record of successful, award-winning productions in the Commercial, Direct Response, Corporate Training, and Feature Film industries.
For more information, or for reseller and education information, please visit our Final Cut Pro Training DVDs at http://www.likeapromedia.com or visit the information page directly at Like A ProTraining For Final Cut Pro HD4.
# # #