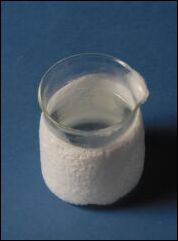 you get a feel for what sorts of specialized products are missing from the marketplace.
(PRWEB) April 7, 2005
Processors of custom chemicals, pharmaceutical ingredients, precision plastic products, and food additives had a common need: heat transfer fluids better suited to the specific requirements of their cooling processes.
Paratherm Corporation, a long-time manufacturer of high-temperature heat transfer fluids, responded to these needs by developing a new line of low-temperature transfer fluids.
The newest, Paratherm MG™ mid-range fluid is a food-grade version of the Paratherm MR® heat/cool fluid. It eliminates the significant design and operational problems found in steam/chilled-water systems, and it is certified HT-1 food-grade by the NSF®, the follow-on to the retired USDA H-1 certification. The fluid is recommended for processes operating from 0°C to 260°C.
Processors with more severe low-temperature requirements have begun to discover the unique Paratherm LR™ low-range heat transfer fluid. This food grade (NSF HT-1) fluid operates between -40°C and +204°C. With a flash point of >60°C, it is classified as a Class III Combustible liquid (not a Flammable liquid) under 29 CFR 1910.106 (OSHA). This assists in reducing safety concerns. Chemical, cosmetic, and electronic-materials manufacturers have replaced Silicone-based, glycol/water, and other fluid chemistries with the Paratherm LR fluid.
Paratherm's cryogenic-range Paratherm CR™ heat transfer fluid (Pat. Pend.) was specifically developed to provide the ultra-cold process temperatures (down to -100ºC) pharmaceutical and fine chemical manufacturers need to increase product purity while simultaneously cutting production time. The low viscosity permits higher fluid turbulence, resulting in faster heat removal than silicone liquids or d-limonene-based fluids.
"Visiting and talking to hundreds of thermal-fluid users about their system problems and production challenges," says Jim Oetinger, Paratherm Corporation Technical Manager, "you get a feel for what sorts of specialized products are missing from the marketplace."
In addition to the heat transfer fluids and system cleaners, Paratherm Corporation provides system-oriented troubleshooting services and thorough application and process assistance.
###