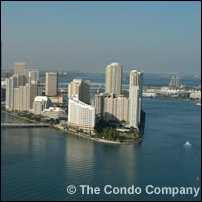 (PRWEB) April 9, 2005
The Condo Company is a highly specialized real estate agency. Originally focusing on the Miami Beach and Fort Lauderdale real estate markets, The Condo Company is currently expanding to other locations in Florida, as well as cities outside of Florida. These cities include Las Vegas, Los Angeles, Vail, and other luxury condo markets.
With an ever evolving condo market sweeping through the international landscape, The Condo Company is revolutionizing the way in which condo sales are promoted and marketed. By incorporating a one-of-a-kind internet platform, condos for sale reach potential investors and buyers around the globe in a way never previously possible.
Already dominating the Fort Lauderdale and Miami real estate markets, The Condo Company is poised to impose its web presence in Naples, Atlanta, Orlando, Los Angeles, Las Vegas, and beyond. Many condos in the explosive South Beach area, such as Il Villaggio, The Setai, Murano Grande, and The Continuum have already reaped the benefits of The Condo Company's #1 web presence.
"Being at the top of all the major search engines drives condo buyers to our web site first, giving us a marked advantage over other real estate companies. Our team of internet and search engine specialists led by CTO Jay Daignault works tirelessly to ensure our site remains the leading condominium web site on the internet." explains President and CEO Michael Ledwitz.
The Condo Company has also recently partnered with Luxury Media Group, which publishes Luxury Condo Living™, a high-end condo design magazine distributed throughout Florida and other select markets. This partnership ensures The Condo Company as the only real estate firm in the magazine, which gives them yet another distinct advantage over their competitors.
Aaron Glickman, the associate publisher of Luxury Condo Living™, states "Our decision to partner with The Condo Company was a no-brainer. Our products go hand-in-hand, and we would be hard pressed to find another company that meshes so perfectly with our magazine."
The real estate future is bright for the condo culture, and The Condo Company will be there every step of the way.
Visit The Condo Company's website at: http://www.condocompany.com
# # #