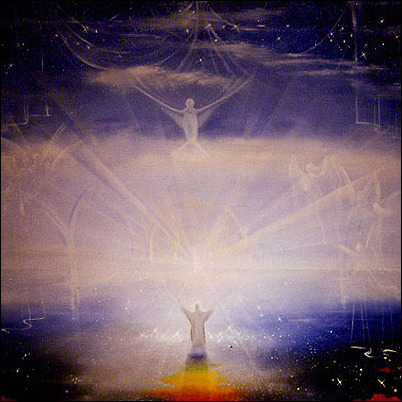 That's why I decided to part with the entire art collection, the full story as well as the Gauguin drawing, to confirm the truth.
(PRWEB) April 13, 2005
With a reputation as a painter of spirits and angels, near-death experiencer Peter Teekamp is finally convinced. After a lifetime of parallels, coincidence and discoveries, he believes his life's work was meant to help prove that we have all been here before. Teekamp believes one way he documented that proof is with more than 200 paintings and 250 drawings dating back to the early 1970's.
The vivid canvases and drawings criss-crossed the globe with Teekamp as he traveled and painted during the last thirty five years.
One reason the canvases are so significant is that they validate Teekamp's discovery of hidden faces in the artwork of French impressionist Paul Gauguin. Teekamp called it a 'trained eye' since, coincidentally, he had been hiding faces in his own artwork from the very beginning of his career. As Teekamp studied more about Gauguin he not only realized that no one had mentioned the hidden faces but even more and more connections with the controversial artist were coming to the surface. Teekamp's seasoned art collection becomes part of the evidence for this mysterious list of coincidence between these two artists. He would learn later that his hidden faces discovery was simply the tip of the iceberg.
While more and more mind-bending parallels and coincidents emerged, the most astonishing came just days before a New Year's Eve 2004 deadline that he and his co-author set as the end of the draft for Teekamp's manuscript. As completely ironic and unbelievable as it sounds, in December 2003 Teekamp discovered and purchased what is believed to be a century-old Gauguin masterpiece charcoal drawing. The unsigned charcoal is understood to be one of the first Tahitian Gauguin compositions that was said to have 'not survived'.
"I want people to know I understand how impossible the whole situation sounds. I know people will think this is either a gimmick or publicity stunt. Of all the artists in the world, I stumble into this one. I was as stunned as anyone. I still am." Teekamp said. "That's why I decided to part with the entire art collection, the full story as well as the Gauguin drawing, to confirm the truth."
The phenomenal chains of coincidence and well-researched art and quotes from Gauguin come in the form of a manuscript. It's actually a journal filled with sparks and Hollywood-style magic that read like pure fiction and yet all 100% true. In addition to the mystical Teekamp art collection and Gauguin drawing, this one-of-a-kind auction will give the successful bidder 50% net book royalties for the next five years for the yet unpublished true story.
Teekamp's co-author, Moshay states that the synchronistic events are so astonishing that to believe they all happened to this one man by pure random chance takes a bigger leap of faith than to see there was design and purpose in the pattern. The purpose according to Teekamp was not to make claims on who he might have been in a past life but to demonstrate the role of coincidence in your own life. "Reincarnation for Dummees? :)", formerly titled "Pass It On," is one man's driven attempt at getting people to look at their own unique history and ask themselves: "Who in the world am I?"
Ironically again, this is the same question posed in Gauguin's greatest final masterpiece: "Where do we come from? What are we? Where are we going?"
Direct from the artist, the opening bid ensures that the grand collection is being passed on to someone who sees the unlimited possibilities for the art, story and one of the most unusual and historically significant collections ever assembled.
The century-old Gauguin original masterpiece charcoal drawing, with notarized provenance, front-page news clippings, court documents and photos are included in this auction. Teekamp's correspondence with the Wildenstein Institute is published online at PeterTeekamp.com.
Also included: Teekamp's portrait of John Lennon painted the day of his death twenty-five years ago, 55+ Gauguin book library, 55+ research book library, 5000 additional signed limited edition Teekamp prints and several unique Teekamp-Gauguin collectibles combined with the 50% future net book royalties.
Paul Gauguin died on May 8 at fifty-five years of age. Also now fifty-five, Teekamp says the ten-day May 8 will be one way to have all the facts investigated. By offering his manuscript, a lifetime of art and coincidence to back it all up, Teekamp believes the story will get properly told. It's a true story that demonstrates the hopeful conclusion that death is not the end.
For one more splash of serendipity, Teekamp's Co-Author Michelle Moshay shares many traits and biographical connections with Paul Gauguin's Danish wife, Mette.
As if there were not enough 'believe it or not' coincidence, friends and business partners Peter and Michelle also look like Paul and Mette Gauguin.
Requests to preview the collection in person are welcomed and recommended.
For more online:
Summary to Pass It On ("Reincarnation for Dummees?"):
http://www.peterteekamp.com/summary.html

Teekamp's discovery of Gauguin's hidden faces:
http://www.peterteekamp.com/faces.htm

Gauguin drawing research:
http://www.peterteekamp.com/wildenstein/index.html

Mette Gauguin and Michelle Moshay:
http://peterteekamp.com/menmette.jpg

http://www.peterteekamp.com/enlarged/john.jpg
Additional recommended online resources:
http://www.johnadams.net
http://www.near-death.com
http://www.kevinryerson.com/
http://www.nderf.org
http://www.ial.goldthread.com/
http://www.infinitesouls.com
http://www.ofspirit.com/death.htm
# # #