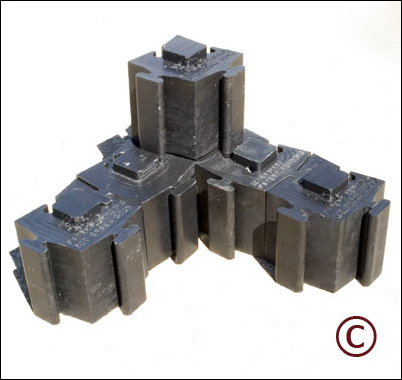 Rome, GA (PRWEB) April 13, 2005
Ballistics Research, Inc., of Rome, Georgia, has developed a unique bulletproof armor that can save the lives of American servicemen and women and greatly increase security against terrorism at home and abroad.
The material, dubbed Advanced Anti-Ballistic Compound, or AABC, is a new, patent-pending, composite polymer with a very high strength-to-weight ratio. It is capable of stopping and safely absorbing projectiles from small arms fire and every kind of conventional (non-nuclear) explosive device. In testing, AABC has proven its effectiveness even against the .50 cal. BMG, a heavy military machine gun round previously called "unstoppable."
AABC weighs less than most other viable protective materials and is the only known material that actually gains strength under attack. While other materials degrade under attack, AABC armor actually absorbs projectiles into itself, building density and mass, and becoming increasingly resistant to assault.
Teamed with a second new development, AABC holds tremendous promise for saving the lives of American troops and vastly increasing the security of buildings and sensitive facilities, such as chemical facilities or nuclear plants. Though it may be produced in any form or shape in which its properties are desired, AABC offers additional unique force protection advantages when in the form of the Three-Dimensional Interlocking Protective System, or 3-D IPS, also a development of Ballistics Research.
Interlocking cubic modules made from AABC, the patent-pending "building blocks" of the 3-D IPS, are produced in virtually any size. For example, some applications may call for cubes that measure 10" X 10" X 10", while other applications may be better served by a system that utilizes very large modules of one cubic yard.
Each module interlocks on six sides with any other cube of the same size, affording speed of assembly and endless flexibility in configuration. No tools or formal instructions are required for assembly, and every cube of the same size is identical to all its mates; There are no special corner modules or end caps.
Utilizing a true three-dimensional, six-sided interlocking system, the IPS cubes form extremely strong structures that may be built to any desired size and configuration, with walls of any thickness. The system's structural integrity is "ram proof," impervious even to ramming with cars or trucks, an especially desirable characteristic for protection of lives and sensitive facilities in Iraq, the U.S., and anywhere terrorists may be active. After use, the modules are easily disassembled for storage or transportation for reuse.
The 3-D IPS is a valuable innovation in military technology and industrial security. It may be used to armor bunkers, buildings, pipelines, pump stations — any critical need equipment or installation that requires protection from ballistic or explosive attack. Military units with a need for permanent, semi-permanent or highly mobile physical security will find the system life-saving and convenient. Existing buildings and facilities are easily and quickly secured with the 3-D IPS, and the system is adaptable for new construction as well.
Founded in 1999, Ballistics Research, Inc., is dedicated to the development of new technologies with value for security and defense of personnel, sensitive facilities and other vital assets, as well as for law enforcement and forensic science.
For high-resolution photos suitable for publication, a white paper on AABC and the 3-D IPS, and additional resources for print, Web and broadcast media, visit http://www.redoakriver.com/aabc.htm.
###