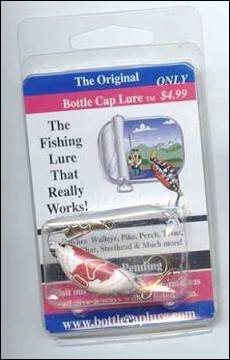 (PRWEB) April 14, 2005
Canadian Norm Price has started not only the worlds largest clean up trend, but also the world's largest fishing trend. Norm Price from Sherbrooke, Quebec, Canada, has opened two companies. Hooked On Recycling which has students, clubs, bars, Scouts, pubs, restaurants, schools and communities from all over the North America catching on. They are collecting as many beer and soda caps as they can. Some of them are passed on to The Original Bottle Cap Lure Company. The Original Bottle Cap Lure Company hires students to manufacture The Bottle Cap into fishing lures. Budweiser, Coors, Labatt, Molson, Coca-Cola and many other brands. Some beverage companies have laid claims on the discarded bottle caps., wanting to take legal action against Mr. Price. "Your claiming these bottle caps are yours?" asked Mr. Price. "Then will you be responsible for the clean up of all the caps that have been discarded."
Mr. Price told them that indeed they are not totally responsible, for the bottle cap is charged four times before landing in the landfill sites. Distributors, Wholesalers, Retailers, and ending with the consumer. Mr. Price has asked the breweries to sponsor a fishing contest by using these recycled Bottle Cap Lures. Brand against brand. They still would not take the bait. While looking for other sponsors, Mr. Price has put together The Battle of the Brands, which is free for the public. Have a look at the website http://www.bottlecaplure.com
The Bottle Cap Lure Company is gaining traction just before Mother's Day & Father's Day. It makes a unique gift made with a recycled product.
The Hot New Lures are also featured in the April Issue of Field & Stream Fishing Magazine. It has also was front page of the Milwaukee Journal
The Original Bottle Cap Lure is also used by 3 Time Canadian Sport Fishing Champion Andy Vander Ploeg. He has won 3 years in a row with the use of the Bottle Cap Lure.
The Bottle Cap Lures can also be custom printed with any company's logo on them.
Hooked On Recycling...Hooked On America...Hooked On News...Hooked On Canada
# # #