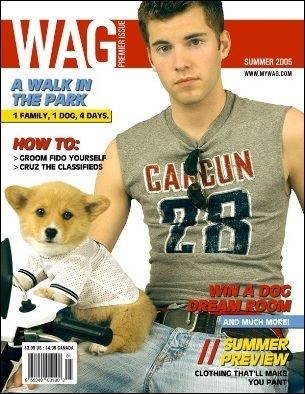 (PRWEB) April 19, 2005
This June will see the launch of a new magazine that's looking to give other publications a run for their money in more ways than one. Not all pet, not just fashion, WAG magazine represents a new breed altogether. A self-styled "GQ for dogs," WAG magazine devotes itself to the art of living with a dog and looking damn good doing it, which may leave readers asking themselves why they are wasting their money on multiple subscriptions to interest magazines when one can do the job.
"We wanted our magazine to be different from all the magazines that have come and gone in a matter of weeks," says editor Josh Magness. "We plan to walk onto the scene and show our readers something they haven't seen in everyone else's magazines. You'll find us standing with one leg raised over the competition."
WAG's main focus is not only the everyday do's and don'ts of pet care, but also the fun and comedy that can only come from living with a furry friend. With fashion spreads from top designers as well as a blend of edgy humor and pop culture, WAG readers might not necessarily have pets, but they'll almost certainly have a twisted view of the world.
Rather than drawing from the same well that most other magazines look to for their talent, WAG has searched for writers who won't just roll over and play dead. Their stated mission is to deliver the freshest, most original material out there, which will make for content that is anything but neutered. Readers can expect the debut to feature the newest fashions from such designers as Kate Spade, Jasper & Lennor, Posh Poochy, and Buckle, tales of humiliation at the paws of a pet, the ultimate guide to grooming your dog, columns, photos, as well as a special feature on taking care of a dog, reality TV-style.
Though WAG's premiere is due out this summer, the magazine is by no means the runt of the litter. Originally hitting the scenes as Paw Prints, one of the nation's largest pet health newspapers with a readership of over 25,000, the editors saw a journalistic vacuum for the finer things in an animal lover's life. In November of 2004 they held the nation's largest pet fashion show with designers from around the world. The response to an injection of style into the animal world was tremendous and the concept of WAG magazine was born.
The future of WAG magazine and its readership stands to determine a lot more than the old story of flash-in-the-pan publications looking to squeeze into an overcrowded niche. With its blend of information and entertainment in a genre that is saturated with predominantly health content, WAG could be a leader in a new generation of publications that manage to keep our dogs healthy while giving us a treat. What remains to be seen is if WAG will be able to teach the old dogs new tricks. For more information visit http://www.mywag.com.
###