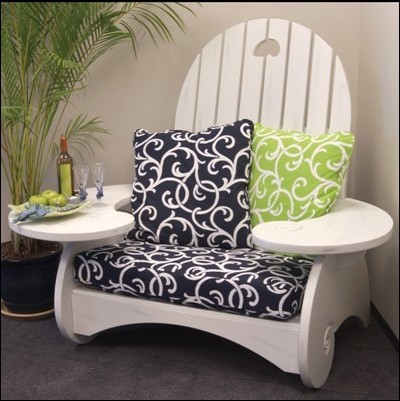 Atlanta, GA (PRWEB) April 19, 2005
Those looking to bring the elegance and comfort of a unique designer hotel to their homes can now do so with the iconographic Lobby Chair designed for Hotel Indigo, the celebrated lifestyle hotel brand currently expanding nationwide. This oversized armchair is constructed for indoor or outdoor use, and is a perfect furniture accent for patios, decks, sun rooms, living rooms, or beach houses.
Created by the award-winning design team of Barton Mills and Tracey Barker of Back Lot Productions, Inc, the Atlanta-based brand development and retail design firm responsible for the design concept behind Hotel Indigo, the Lobby Chairs are an integral furniture element of the chain, which seeks to revolutionize the travel experience for those seeking a more relaxing, nurturing experience without a premium price tag.
As comfortable as they are unique, these armchairs embody the classic design concepts behind Hotel Indigo. Like all elements of the hotel, the Lobby Chairs were designed based on the Golden Mean, a universal design constant that has been used to assure beauty and balance in art, architecture, music and design for centuries. This ratio is found in the human form, sea shells, plant growth, and even spiral galaxies.
The Lobby Chair features an oversized arm large enough to accommodate life's simple pleasures, whether a glass of wine, expresso, favorite book, or laptop computer. The uniquely expansive furniture arms invite, include and embrace the chair's occupant, providing a haven to curl up and relax. The indigo, white, and green print pattern of the armchair's cushions calm and refresh the spirit.
The Hotel Indigo brand is owned by the Intercontinental Hotels Group (IHG), the largest hotel group in the world and includes brands such as Intercontinental, Crowne Plaza and Holiday Inn.
For more information:
Tracey Barker
Back Lot Productions
Phone (770) 604-5713
Fax (770) 604-2143
P. O. Box 88250
Atlanta, GA 30356
e-mail: tracey@backlotproductionsinc.com
http://www.backlotproductionsinc.com
###