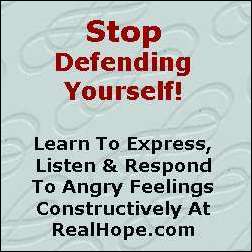 It's a form of 'Toxic Hope' to continue in a disrespectful or very argumentative relationship when there is no real evidence that it will change. My course helps assure that you will get the evidence, one way or the other.
(PRWEB) April 26, 2005
Marc Sadoff, MSW, BCD, a Los Angeles based anger management therapist featured in Time Magazine last year, focuses on better couples conflict communication skills. His approach can be previewed at his RealHope.com website at http://www.RealHope.com/free_tips.php
His techniques cover the gamut from simply not listening thoroughly to each other all the way to physical confrontations that happen when one person wants to leave the room. These communication skills are useful also for workplace conflict.
Marc says that he's drawn his methods from having worked for 19 years in doing anger management treatment, 8 years of doing couples workshops and from his personal experience of 'passionate relationships'. He says, "I learned to first look at how it made sense for my partner to be upset BEFORE I talked about what I wanted her to understand. I learned to become less defensive and to listen all the way through my partner's description of her experience, before I began explaining myself. When I saw the amazing results of using these deceptively simple two and three step methods, I began to explore how they could be taught in the most efficient manner."
The workshop manual, used for the weekend training is available with a money back guarantee for couples who do not live close to Los Angeles, at http://www.RealHope.com/home_study_course.php
Sadoff says that his methods are influenced and drawn from his training in facilitating the PREP™ course. And, he says the research of Dr. Gottman has been very useful in developing his methods as well.
The monthly weekend workshops and the manual contain exercises that allow couples to rehearse sample arguments repeatedly until they are learned. One simulation exercise, using video vignettes, is the 3 sentence method of 'How to express anger most constructively.' Another 3 step method is 'How to respond most constructively to someone who is angry with you.'
The most important agreement is the 'Time Out' agreement which has only two rules. He says, "This is the one that gives either partner the 'remote control power' over your partner and gets them to 'zip their lips'. Many people THINK they are taking a 'Time Out' but are forgetting the critical second element which makes it work."
In fact, Sadoff says, "These agreements will either help you make up... or break up." He adds, "The agreements become the measuring stick to decide if there is any 'Real Hope' for the relationship to improve. If real evidence of change does not occur then one or both partners may need to get additional help individually. Or, it's time to either accept that the relationship will not change significantly or to consider an ending."
He goes on to say, "It's a form of 'Toxic Hope' to continue in a disrespectful or very argumentative relationship when there is no real evidence that it will change. My course helps assure that you will get the evidence, one way or the other."
Mr. Sadoff said he wanted to create a strictly educational workshop, seen at http://www.RealHope.com/workshop.php to simply teach the best methods recognized by the professional community as being effective. The training includes watching videos of angry arguing couples which become the launching point for practicing how one could apply the new agreements or methods of expressing and listening. The couples can sometimes discuss more calmly issues that are seen in a video, before applying the principles to themselves.
Video and email testimonials by couples who have taken his weekend course have couples saying what changes and insights occurred for them that makes them feel hopeful again for their relationship.
The video testimonials can be seen by broadband, cable and DSL users at http://www.RealHope.com/video_testimonials.php
Those using slower dialup modems can view the written email testimonials at http://www.RealHope.com/testimonials.php
The whole seminar manual is also available for immediate download as a .pdf file at http://www.RealHope.com/order_home_course.php#downloadpdf
"You insure you house, your car and your life...why not insure that your relationship has the best tools and chance for success? The workshop manual is based on research with thousands of couples and is great Relationship Insurance." says the therapist.
###