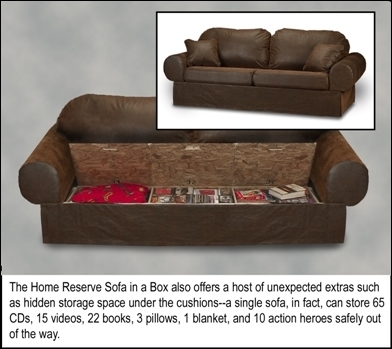 Fort Wayne, IN (PRWEB) April 20, 2005
Whether gathered on the sofa around the fireplace or big screen TV, the living room is the heart of your home. But if the "living" space has vanished from your living room, replaced by life choking clutter, you're not alone.
While those in condos, apartments, smaller houses, and those with kids may feel the sharpest pinch, no one is immune. The clutter of daily living sees to that - mail, magazines, newspapers, and books; CDs, DVDs, video games; not to mention toys, paperwork, and kid's art - all seem to multiply despite our best efforts to clear some living space.
Fear not. The way underbed storage has helped solve the shortage of bedroom space, those needing safe, convenient storage closer than the closet or next room will find the new category of ready-to-assemble (RTA) sofas neatly solves the problem.
John Vessely, for instance, needed a sofa, chair, and ottoman for his Valley Stream, N.Y., home, and a solution for his teenage son's video and DVD collection that perennially piled up on the TV and spilled onto the floor.
After Internet research, Vessely discovered RTA upholstered furniture that made his existing space "do double duty." Now his son's entire video and DVD collection is neatly organized in hidden storage under the sofa cushions.
Not only are the "secret" compartments fun to show friends, but also the wood lids and bottoms under the cushions provide dust protection and surprising holding capacity. A single sofa, in fact, can store 65 CDs, 15 videos, 22 books, 3 pillows, 1 blanket, and 10 action heroes. Because the manufacturer Vessely bought from, Home Reserve (http://www.homereserve.com), sells RTA sofas direct to customers via the Internet, he got his sofa for about 50% less than retail for $299.
While taking back your living room, via the sofa, may seem like a small victory in the battle against household clutter, winning here will return much needed comfort and breathing space to the most used room of the house.
Contact:
Blaine Wieland
Home Reserve
800-482-2712
###