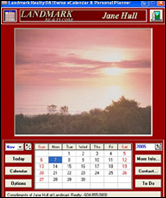 Cliq-on/DATEwise helps companies take their online direct marketing efforts to the next level," adds Lazor.
Pittsburgh, PA (PRWEB) April 21, 2005
Pittsburgh-based Promotions For You announces the release of its new promotional product, the Cliq-on/DATEwise desktop calendar and planner. A revolutionary communications concept, Cliq-on/DATEwise combines customer relationship management, promotional products and technology into a simple "Point-and-Click" process.
"Building strong relationships in today's hectic business environment has become more challenging than ever," says Bob Lazor, Managing Partner of Promotions For You.
A compact Desktop Planner/eCalendar Cliq-on/DATEwise answers this challenge by delivering:
branded time saving tools
a communications system that requires no sophisticated software
valuable targeted information when needed
simple to use technology
a gift with a high perceived value($30 at retail)
a compact downloadable delivery solution that is absolutely effortless
a promotional gift that promotes viral marketing (pass-on readership).
Cliq-on/DATEwise cuts through the clutter of commercial email, solving such challenges as:
The CAN-SPAM Act
Sophisticated e-mail filters blocking your mail
The risk of getting blacklisted
In the process, Cliq-on/DATEwise builds a bond with customers, which is critical in today's highly competitive business environment. It is a fully customizable, simple-to-implement productivity and communications tool. Several examples of the desktop calendar concept in action can be seen at: http://www.dtesusa.com/CliqOnDATEwise/
Cliq-on/DATEwise uses a proprietary permission-based technology to link fresh web site content directly to the customer's desktop. Cliq-on/DATEwise offers simple solutions to complex customer relationship manager challenges in a positive, non-intrusive manner.
"Cliq-on/DATEwise helps companies take their online direct marketing efforts to the next level," adds Lazor. "As a branded corporate marketing and communications tool, the Cliq-on/DATEwise simple point-and-click process solves many of the challenges direct marketers face today and has been received exceptionally well by end users."
For more information about the Cliq-on/DATEwise desktop calendar or other promotional products by Promotions for You, visit http://www.promotionsforyou.com.
Media Contact:
Robert Lazor
Managing Partner
Promotions For You
Pittsburgh, PA 15237
1 800-560-8890
# # #