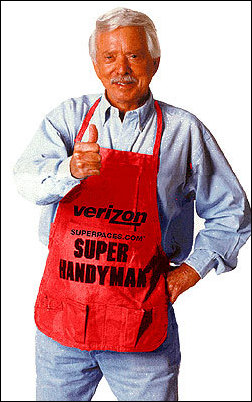 Dallas, TX (PRWEB) April 25, 2005
Verizon SuperPages.com and Super Handyman Al Carrell offer help in choosing hand tools and power tools in the fifth of six do-it-yourself home improvement project guides available on Verizon superpages.com, a leading local search site.
Carrell says that before you tackle home improvement or remodeling projects, it's important to make sure you have the right tools for the job at hand. It's also important to have a basic tool kit so you're prepared for "everyday disasters" that might happen. Even people who live in apartments should have a tool kit for such jobs as assembling toys on Christmas Eve!
Carrell recommends a basic tool kit including hammer, hand saw, screwdrivers, pliers, level, tape measure, adjustable wrench, c-clamps, stapler, utility knife, flashlight and toilet plunger – all stored in a sturdy tool box. If you are going to own just one power tool, he suggests a three-eighths-inch, battery-powered electric drill. For supplies, you'll need sandpaper, glue, and an assortment of nuts and bolts, nails, screws and duct tape.
Spring is a great time to find tools on sale at your favorite local hardware store or home center.
The Super Handyman says to look for good quality, brand-name tools. They'll perform better, last longer and may come with a lifetime replacement warranty. Your basic set of tools does not have to cost a lot of money, but many times the difference in price between a good tool and a cheap one is a matter of pennies. And there are a lot of so-called "bargains" that won't even last through the first job.
He has a complete list, with specifications, on Verizon superpages.com. The tools can be bought for less than $175, full retail price, at national chain stores.
Carrell, a nationally known expert on home improvement and repair including wood and furniture refinishing, served for eight years as spokesman for The Home Depot. He advises do-it-yourself furniture refinishers to work outdoors or in well-ventilated areas.
In addition to refinishing furniture, other topics covered in the six-week do-it-yourself series on Verizon superpages.com include plumbing, energy saving, painting, furniture refinishing and patio deck building.
Carrell's newspaper column, "The Super Handyman," appears in about 100 cities including Boston, Chicago, Dallas, Fort Worth, Houston, Phoenix, Tucson, Orlando, Fort Wayne, St. Louis and Nashville. He also has a weekly radio show in the Dallas-Fort Worth market.
About Verizon superpages.com
Verizon Information Services, a division of Verizon Communications Corp. (NYSE: VZ), is the nation's most advanced provider of yellow pages and related shopping information. It has $3.6 billion in revenues from products including: Verizon SuperPages yellow pages; Verizon superpages.com (http://www.superpages.com), the nation's number 1 Internet directory and a leading online shopping resource; and the SuperPages On the Go information directory offered through Verizon Wireless Get It Now services and on other wireless carriers. The company is the largest publisher of Hispanic directories in the U.S. and the first to provide a Hispanic online shopping resource (http://www.superpages.com/espanol).
###