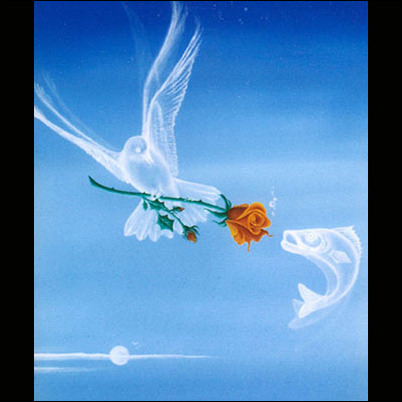 Take a sad song and make it better
(PRWEB) April 26, 2005
Thirty years ago, artist Peter Teekamp painted "Pass It On". Little did he know then that this title would perpetuate its own duplication through a medium called the world wide web. With the immeasurable internet audience, "Pass It On" has done just that. Once posted on Teekamp's website the Spiritual message of life-everlasting depicted in this portrait has been visited, downloaded, copied, printed, emailed, stored, sent and re-posted to other websites. Clearly, even if Teekamp's site disappeared today, the image would live on...forever. And if not in the computer on someone's desk, definitely in the one between their ears. Once it's in that computer, you can't take it back.
Another portrait in the Spirit gallery is "The 12 Faces and Phases of John". Painted the day John Lennon left the earth twenty-five years ago, it remains one of Teekamp's most beloved compositions and another strong example of Spirit art enjoying the power of digital duplication. "With tears in my eyes, hearing the radio play 'Imagine' over and over again, I started to paint the faces and phases of John's life in Spirit" recalled Teekamp. The image has found homes on the many John Lennon tribute sites. With 6.5 million Google search results for John Lennon, one can only imagine what John's 'Peace-in' would have been like via the internet.
In a moving story of a young mother who had lost her child at birth, the 1994 "Portrait of Amanda" has also sprouted Angel wings on the web. Listed on sites that honor the memories of children lost and the parents that grieve, it has powerful impact with its hidden secret. Wanting to see her child happy and at peace, Teekamp surrounded Amanda with butterflies, rainbows and roses and added an element revealed publicly at the urging of her mother. Although few may understand, she called it a 'good thing' referring to the fact that every stroke of paint Peter used in the creation of 'Portrait of Amanda' was lovingly mixed with her ashes.
Sixty years ago at an Auschwitz concentration camp, no one could have known that photographic images of suffering would end up in a place called the internet to forever remind us of one of the most devastating eras in human history. In 2003 on a visit to his native Holland, Teekamp was shown a stark wooden sign taken from the concentration camp some fifty years before and hidden in a Holocaust survivor's attic. The heirs to the stenciled sign asked Peter what he thought they should do with it. Teekamp simply turned it around and painted it into a beautiful sky with the Star of David. The barbed wire transforms to musical notes as Spirits can be seen ascending to the light of the Star. "Take a sad song and make it better". The painting is just now beginning its trek across the globe having been added to Teekamp's gallery only recently. Some critics argued that the sign should hang in a museum, Teekamp feels it's in the grandest museum ever imagined, cyberspace, for all to see and remember.
Digital eternity? Ever-Lasting life? No matter how 'out there' the concept might be, keep in mind that in cyberspace, once it's out there, it's out there. Teekamp adds idealistically; "and remember, all you need is Love". Pass it on.
# # #