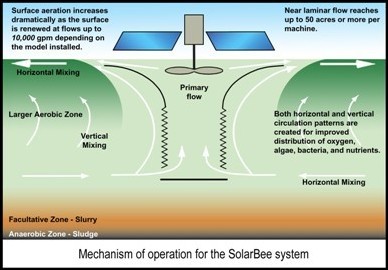 Dickinson, ND (PRWEB) April 26, 2005
If you are considering a lake aerator such as a diffused air bubbler to overcome water problems such as blue-green algae takeovers, don't be a victim of myths and misconceptions. In the end, you may be squandering money, energy and valuable time that could be used to implement a more effective water health-recovery solution.
Whether trying to get rid of scum, fish kills, or rancid odors - or simply replacing copper sulfate treatments - you should understand the inherent limitations of the most common type of lake aerator – particularly the diffused air bubbler.
Air bubblers consist of a shore-mounted air compressor that blows air through submerged pipes to an air diffuser "bubbler" on the lake floor. However, the water pushed from the bottom is colder and denser than water closer to the surface, causing only a limited amount of water to rise all the way up. That water then sinks quickly, limiting any brief lake aeration to the proximity of the bubbler and providing little control of blue-green algae.
Furthermore, the agitation caused by compressed air at the bottom by this type of lake aerator can cause phosphorous to rise from sediment to feed blue-green algae – the opposite of the intended effect.
As an alternative, high-volume solar-powered, circulators called SolarBees are providing aeration that far exceeds diffused air bubblers and other lake aerator systems.
Manufactured by Pump Systems of Dickenson ND, SolarBee systems circulate 10,000 gallons per minute, mixing and aerating 50 acres of lake surface area with one unit. These self-contained flotation units pump water from just above the thermocline of the lake, and spread it horizontally across the top of the lake for long distances. This action provides even oxygen throughout the epilimnion (the upper part) of the lake and achieves effective blue-green algae control.
This unique lake aeration technology dramatically increases dissolved oxygen levels and begins to clarify water, reduce odor, and fight blue-green algae within weeks.
For information:
Joel Bleth, SolarBee
530 25th Ave E
Dickinson, ND 58601
Phone 866-437-8076
Fax 701-225-0002
E-mail solarbee@solarbee.com;
Web site http://www.solarbee.com
###