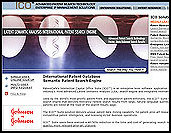 Yuba City, CA (PRWEB) April 27, 2005
PatentCafe has introduced ICO™ Portfolio Manager, the high value add-on module for the company's ICO™ Suite of patent research and intellectual property management solutions for enterprise (http://www.IAMcafe.com).
IBM's licensing efforts generate nearly $2 B annually. With ICO™ Portfolio Manager SME to Fortune 100 companies without IBM's licensing infrastructure can create their own patent licensing opportunities.
"Nokia licenses from Acacia Technologies"; "Samsung licenses from Universal Display"; "Borland licenses from Certicom"; "Lexar Media Inc., I-O Data Device and GoVideo license from Microsoft". Such headlines clearly echo the dramatic rise in patent licensing, a necessity in today's competitive technology environment.
Patent licensing leverages past R&D investment to boost bottom line profits and grow shareholder value. Licensing is also used as a defensive measure to mitigate the risks and expense of patent infringement litigation.
ICO™ Portfolio Manager is the first patent portfolio management solution that applies advanced linguistic data mining capability of the ICO semantic patent search engine to a company's entire patent portfolio. The module helps patent attorneys, corporate counsel and IP managers fully exploit their company's patent assets by helping identify new licensees, mitigate litigation risk, and reduce duplicate R&D costs.
"For those who identify prospective licensees first, there are fortunes to be made. It sounds trite, but Fortune 500 portfolio managers agree." PatentCafe's CEO, Andy Gibbs says "A couple of Fortune 100 portfolios 'go live' in next week".
After a one-time setup process, a company's portfolio is internally searchable enterprise-wide against more than 21 million patent documents in PatentCafe's international patent data center. Thereafter, an authorized company representative can add or remove patents from their portfolio through an easy browser interface.
Using LSA's natural language search capabilities, licensees can simply copy and paste the full text of a competitor's product description into the search box, and identify the most closely related patents the competitor may be infringing. "No other patent management solution in the world delivers that capability" says Gibbs.
"Stick licensing", or asserting a patent against a competitor in order to open the door to licensing negotiations, forces a prospective licensee to weigh the costs of licensing against the more expensive alternative, infringement litigation.
"Carrot licensing" requires the licensor to identify potential "friendly" licensees, and making an offer to license one or more patents that will bring future value to the licensee – the "carrot".
ICO™ Portfolio Manager makes short work of winnowing huge portfolios down to the bundle of patents that a licensee would consider valuable to their business.
Literally, in minutes rather than weeks or months, the module's LSA technology can group related patents from portfolios as large as IBM's (nearly 40,000 patents), increasing the license value by identifying long-forgotten or obscure patents sitting at the bottom of the portfolio. PatentCafe launched the free Open Source Software Patent Search Engine with IBM's 500 free OSS patents in early 2005.
Adding standard alerting functions to ICO Portfolio Manager allows companies to increase cross-licensing of their existing patents across their divisions and subsidiaries, something that makes CFOs happy.
The alert feature can boost corporate revenue, while significantly reducing duplicate R&D activities in facilities unaware that the parent corporation already has patented technology they can exploit. Internal cross-licensing can also lead to faster time to market, while reducing the chance of infringement.
About PatentCafe®
PatentCafe is a leading provider of patent research tools and intellectual property management solutions.
The company's ICO™ Suite of enterprise IP management solutions is used by legal and business professionals worldwide to transform patent and technical data into actionable business information.
ICO™ solutions deliver the next generation data mining and analyzing technology for improved patent quality, superior competitive intelligence, licensing revenue optimization, and corporate governance compliance.
PatentCafe also publishes IPFrontline™ Intellectual Property and Technology Magazine.
http://www.IAMCafe.com - Patent Search Engine and Management Solution for Enterprise
http://www.IPFrontline.com - Intellectual Property & Technology Magazine
For more information, or to arrange interviews, please contact:
Andy Gibbs
Chief Executive Officer
Email: e-mail protected from spam bots
Assistant: 530-671-0200 Ext. 203
# # #