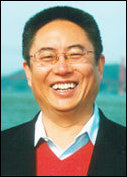 (PRWEB) April 28, 2005
SurfNet Media Group, Inc. (OTCBB:SFNM) announces that Dr. Zhi Gang Sha, world renowned physician and healer, will join its online VoiceAmerica™ Network on the VoiceAmerica™ Health & Wellness Channel (http://www.health.voiceamerica.com/) as host of a new weekly show, "Power Healing with Dr. Sha" premiering on Friday, April 29, 2005 at 5PM PST (8PM EST) with an encore broadcast at 5AM PST (8AM EST). The VoiceAmerica Health & Wellness Channel (http://www.health.voiceamerica.com) offers the latest conversations in a talk radio format, providing education, interaction, and advice on key issues on a wide array of health topics.
Broadcasting for the first two weeks live from China (8:00AM in China, April 30 and May 7), Dr. Sha's first guest will be Dr. and Master Zhi Chen Guo. Dr. Guo, a renowned physician in China who practices both Chinese and Western medicine, is the founder of the breakthrough Zhi Neng Medicine which focuses on the intelligence and capabilities of the mind and soul. He is the founder of Body Space Medicine, the groundbreaking medical science of the 21st century. Body Space Medicine has been credited by Chinese government officials as being instrumental in containing the SARS epidemic. In addition, PBS featured Master Guo in a special on Qi Gong and named him one of the most powerful Qi Gong masters of our time. Dr. Guo also received a Golden Stature Award at the World Traditional Eastern Medicine Conference and has been successful in healing thousands of cancers patients with his innovative techniques.
"Master Zhi Chen Guo is my spiritual master and teacher for Zhe Neng medicine, Body Space Medicine and sacred energy and spiritual wisdom. I cannot reach my success without his teaching," Dr. Sha comments. "His is my most honored and respected master in my heart and I can not honor him enough. I welcome him as my first guest and encourage you to listen in to experience the wisdom and knowledge of this wonderful man."
"Power Healing with Dr. Sha" is based upon Dr. Sha's best-selling book, Power Healing, which teaches self healing through ancient Chinese healing practices that have been modernized for the Western world. Each week Dr. Sha will combine energy secrets from ancient China and the latest breakthroughs in medical science. To access the show, log on at http://www.health.voiceamerica.com. Call in live with questions and comments at toll-free at 866-369-3742.
Dr. Zhi Gang Sha is an extraordinary healer and divine master. He is an MD in China, a doctor of Traditional Chinese Medicine in China and Canada, the founder of Power Healing and Soul Mind Body Medicine™, and best-selling author of Power Healing: The Four Keys to Energizing Your Body, Mind & Spirit. He is also a Grand Master of Tai Chi, Qigong, I Ching and Feng Shui. He was named Qigong Master of the Year at the 5th World Congress on Qigong. He is the only 373rd lineage holder of Peng Zu, the 4300-year-old life-long anti-aging system -- a wisdom which has been passed through oral tradition to a very select few lineage holders in each generation. Dr. Sha is the First Disciple and worldwide representative of Master Zhi Chen Guo, in China, founder of Zhi Neng Medicine™. He is the former physician to China's Vice Prime Minister and is being recognized by his peers -- Dr. John Gray, Dr. Wayne Dyer, Debbie Ford and many others for his innovative efforts. For more information on Dr. Sha, and his work visit http://www.drsha.com/
SurfNet Media Group (OTCBB:SFNM) (http://www.surfnetmedia.com/) is an online media company and originator of the pioneering online VoiceAmerica Network (http://www.voiceamerica.com/), leading the world in online talk radio, live and on demand.
The VoiceAmerica Network produces and distributes over 100 programs weekly. For entertaining and stimulating talk on today's hot topics, click on VoiceAmerica.com. For the bottom line in business talk, click on VoiceAmerica Business. For the latest conversations on health, click on VoiceAmerica Health & Wellness. New voices, new communities, new devices. One world, one conversation at a time. Bringing compelling and entertaining content to online communities worldwide.
###