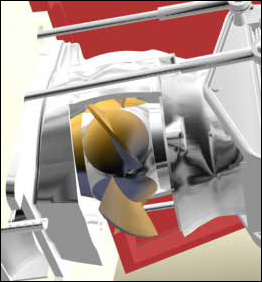 Redmond, WA (PRWEB) May 5, 2005
IntelliJet Marine, Inc. is making rapid progress in the development of marine propulsion technology acquired from Marine Jet Technology Corp in January of this year.
The company has commenced fabrication of an advanced version of its variable geometry jet drive incorporating a continuously variable power transmission (CVT), now becoming the standard in automobiles. "Existing marine jets utilize a fixed drive system that hasn't been seen in automobiles since the Model T," says Jeff Jordan, President of IntelliJet Marine, Inc. "The IntelliJET is naturally expected to enhance fuel economy and engine life in boats, just as transmissions have in automobiles."
The company believes that this system's superior performance will answer the strong expressed desire from consumers for greater reliability and economical operation in boats. "We expect this technology to offer manufacturers the opportunity to reduce their product liability insurance without sacrificing performance," Jordan says, "which should provide motivation on that end, and ease the acceptance of the IntelliJET in the recreational boating industry."
Management has also found strong interest for military, homeland security, and commercial applications. The Intellijet technology is under consideration by a prominent marine architecture firm for inclusion in several military craft. Jordan has been selected to present this technology at MACC, the Multi-Agency Craft Conference sponsored by the US Navy this month in Norfolk, Virginia. Mr. Jordan has also been accepted as a presenter at the 2005 High Speed Ship and Craft Symposium sponsored by the American Society of Naval Engineers in Everett, Washington on July 19 and 20.
About IntelliJet Marine, Inc.
IntelliJet Marine, Inc. was formed to develop and market advanced marine propulsion technology. The company's design integrates well-proven hydrodynamic principles with microprocessor controls to efficiently deliver optimal thrust over a wide range of acceleration, speeds, and loads. The company has three issued patents and one patent pending. A virtual reality video of the IntelliJet design can be seen on its website http://www.intellijetmarine.com. The company's registration of the IntelliJet tradename was recently allowed by the US Patent and Trademark Office.
# # #