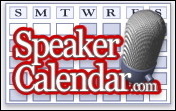 Torrance, CA (PRWEB) May 3, 2005
Proactive Web Brands LLC announced the availability of its flagship service, SpeakerCalendar.com, for public speaking professionals. The basic subscription-based offerings include a comprehensive and searchable speaker profile with experience and references, a professional biography, up to eight searchable presentation titles, up to five searchable category links, a speaker photo, a comprehensive press kit, the speaker's availability calendar and unlimited meeting and event directory listings, with powerful cross-references to public speaking engagement links.
"The success of most small businesses rests on the shoulders of the company's best spokesperson, and in the case of self-employed speakers, they are natural self-promoters," said David Tichy, Proactive's President. "We are dedicated to providing our subscribers with the online marketing tools they need to proactively promote their businesses and abilities to the meeting planning industry and acquire more public speaking opportunities."
SpeakerCalendar.com provides national exposure to professional speakers and allows speakers to communicate directly with meeting and event planners who are interested in contracting for their services. Meeting and event planners are able to publish calls for speakers and communicate with speakers directly regarding upcoming speaking opportunities.
SpeakerCalendar.com offers cafeteria-style pricing, allowing users to choose the features that best fit into their own on-line business marketing plans.
A unique add-on feature of http://www.SpeakerCalendar.com is its product catalog venue where speakers may promote their own products to new markets of prospective buyers interested in hearing previously recorded programs or acquiring the skills and insights each speaker presents in their live sessions.
Individuals subscribing to the Call for Speakers feature are able to proactively access a national database of public speaking opportunities. MySpeakerCalendar is another add-on feature that allows users to incorporate a personal speaker engagement calendar on their own Web site.
In today's time-crunched world, meeting planners need resources that enable them to identify, qualify, earmark and select prospective speakers for their current project as well as future projects. SpeakerCalendar.com's database allows planners to browse or search for speakers by category, state, city, keyword, calendar availability or proximity to a zip code.
Meeting and event planners may also publicize their events on SpeakerCalendar.com, link scheduled speakers to events, submit calls for speakers and save private notes or comments about individual speakers for future use.
About Proactive Web Brands LLC:
Headquartered in Torrance, California, Proactive Web Brands LLC designs and develops Internet-based software for business-to-business and business-to-consumer applications. Professional and emerging market speakers can proactively market and promote their public speaking abilities through a newly launched online marketing service, SpeakerCalendar.com. SpeakerCalendar.com allows speakers to promote directly with meeting and event planners. Further information about Proactive Web Brands may be found at: http://www.proactivewebbrands.com.
Contact:
David Tichy
310-465-0936
# # #