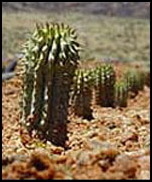 Rocklin, CA (PRWEB) May 4, 2005
Hoodia4Weightloss, a company that features hoodia gordonii cactus extract in its weight loss pill products, announces a pre-summer special just in time to shed those stubborn pounds before the swimsuit season approaches.
The special offer, good through Memorial Day weekend, includes a free diet plan brochure and a free bottle of hoodia gordonii Super Slim 400 capsules with the purchase of two bottles. Customers who follow the diet plan for 30 days are guaranteed to shed pounds, or a full refund will be issued.
The free brochure is a daily, step-by-step guide on how to slim down with Hoodia4Weightloss' products. It includes instructions on when to take a weight loss pill and when to eat, and also features a progress-tracking sheet.
"There is never a perfect time to begin a diet program, but many people choose April and May so they can look their best during the summer months," says Laura Schneider, owner of Hoodia4Weightloss. "Our weight loss pill combined with the free Diet Plan is guaranteed to help people lose weight before Memorial Day."
Hoodia gordonii is a six-foot cactus native to the Kalahari Desert region of South Africa, and contains an active ingredient which research has shown could reduce an appetite by up to 2,000 calories a day. The San Bushmen of South Africa have used hoodia gordonii for centuries as an appetite suppressant and thirst quencher to stave off hunger on long hunting expeditions across the desert.
Hoodia4Weightloss products are safe and natural; unlike many other weight loss pill brands and other diet products, they do not contain caffeine, ephedra or any other stimulants. The company's product line features several weight loss pill brands (Diet Extra, Super Slim and Chia Fat Blaster) and a power shake formula, and will soon include tea and gum. Hoodia4Weightloss recommends combining the natural benefits of their products with a healthy diet and exercise in order to achieve weight loss and health goals.
With the pre-summer special at http://www.hoodia4weightloss.com, customers who purchase two 90-tablet bottles of Super Slim 400 at $39.95 each will receive a third bottle free. For more information about the company's hoodia gordonii weight loss pill or other products, please visit http://www.hoodia4weightloss.com.
Contact:
Laura Schneider
Hoodia4WeightLoss.com
800-507-5090
# # #