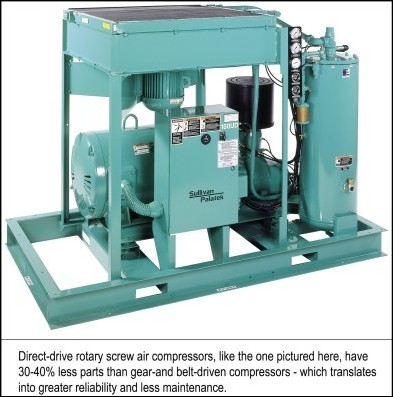 Gears and belts have persisted for a surprisingly long time because it's the least expensive and most flexible way of building machinery
Michigan City, IN (PRWEB) May 4, 2005
In a quest to wring every ounce of performance from a manufacturing or processing plant, every piece of equipment must operate at maximum output with minimal maintenance. Realizing that less moving parts translates into greater reliability and increased efficiency engineers requiring an air compressor are now turning to today's new direct-drive systems.
The reasons for this shift are apparent. Air compressor belts stretch over time and require adjustment of the pulleys. Belts also occasionally break, bringing production to a halt. Gears fare only marginally better, requiring constant lubrication while suffering parasitic losses. Once the teeth wear down, replacement gears must be installed while production waits.
"Gears and belts have persisted for a surprisingly long time because it's the least expensive and most flexible way of building machinery," observes Steve Van Loan, President of Sullivan-Palatek, a manufacturer of direct-drive rotary screw air compressors. "But businesses now operate with scalpel-thin operating margins where any break in production can put you 'in the red.' In such environments, the advantages of direct drive prove invaluable."
While the majority of electric air compressors in the 5-100 hp range are belt or gear-driven, the Sullivan-Palatek air compressor system utilizes a direct-drive rotary screw which eliminates many unnecessary moving parts such as gears and pulleys. Sullivan-Palatek compressors also employ larger rotors in the air-end assemblies that, in effect, offer a "higher displacement" so that they turn slower. The net result is extended service life while delivering more air at higher pressures using lower horsepower.
The simplified design advantage of having the electric motor directly drive the rotary compressing unit also translates into electrical cost savings up to 8% over compressors that employ intermediary drives.
Given less maintenance, more up-time, and greater operating efficiency, direct drive air compressors allow plant and facility managers to concentrate on achieving peak performance.
Sullivan-Palatek manufactures electric and diesel driven rotary screw air compressors, along with a complete line of accessories.
For information:
Sullivan-Palatek
Steve Van Loan
Email: svanloan@palatek.com
Toll Free: (800) 438-6203
Fax: (219) 872-5043
###