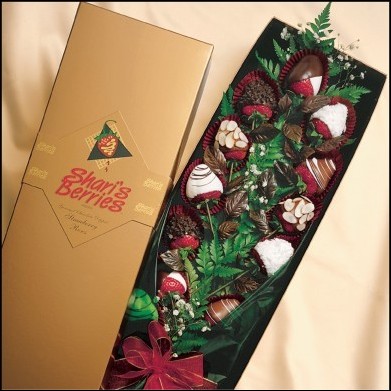 Sacramento, CA (PRWEB) May 4, 2005
This year, don't buy boring, sneeze-inducing flowers or routine gifts at inflated, last minute prices. Instead, give your Mom "The Unforgettable Gift"™ with the best features of flowers and candy – a dozen gourmet hand-dipped strawberries available with decadent chocolaty coatings and six different toppings—the perfect gift for Mother's Day or any day you want Mom to feel special.
Make Mom feel like Hollywood Royalty because you care enough to send the berry best. It is the quality of Shari's Berries gourmet, hand-dipped strawberries that make them a favorite among Hollywood's A-list celebrities like Halle Berry, and good enough to be included in the Academy Awards goody bags to Oscar winners like Hilary Swank.
Every strawberry is inspected for size, shape, and quality and hand-dipped the day it's shipped. The strawberry creation of your choice is overnighted to Mom in a cooled container to ensure peak flavor and texture.
These treats are a light and healthy indulgence that people appreciate and offer health benefits that flowers don't. Premium strawberries, believed to lower cancer risk, are dipped fresh daily in their secret recipe that includes white, milk, or dark chocolate, and adorned with bits of almonds, coconut shavings, mini chocolate chips or fancy swirls. For those with dietary preferences, sugar-free, non-alcoholic, and other gift selections are available. If you still feel you need to send flowers for Mother's Day long stemmed Strawberry RosesTM are available.
While most companies print your Mom's name on the shipping box, Shari's Berries includes your personalized message in a gift card inside with your gift, keeping your message personal.
Shari's Berries is ranked one of the Top 50 Internet sites by Internet Retailer and recipient of the 2005 People's Choice Dottie Award, so navigating among Shari's Berries Mother's Day gifts is easy and secure.
So if you want to make Mom feel unforgettable skip the flowers and send Shari's Berries.
For more information:
Shari's Berries
Kevin Beresford
Phone toll-free: 1-877-BERRIES or 1-877-237-7437
E-mail: kberesford@berries.com
###