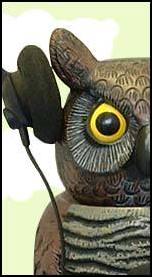 (PRWEB) May 6, 2005
England, May 2005 – From the obscene to the unintelligible, Skype users across the world are showing their creativity (or mental imbalance) in their choice of Skype username. The Skype Owl, in association with Skype-headset-reviews.com, has nominated its top ten Stupid Skype Usernames and is inviting readers to submit their favourites for inclusion on the list, at http://www.skype-headset-reviews.com/usernames
Skype, the company that allows free calls over the Internet is fast becoming a global phenomenon and over 100 million users have subscribed to date, all of whom must identify themselves to the world via their Skype username. The names make for interesting reading.
The Skype Owl has been having a hoot trawling literally millions of such usernames to come up with its top ten, but with such a choice on offer, it needs the public's help. The Skype Owl's choice can be found at http://www.skype-headset-reviews.com/usernames
If you have seen a Skype username that you think needs to be announced to the world, please submit it to info@skype-headset-reviews.com. There is no material prize for inclusion on the list, but the Skype Owl urges you to take the most personal gain you can out of this unique and special experience.
About Skype-headset-reviews.com and The Skype Owl
Skype-headset-reviews gives independent reviews of the many headsets that are available to use for VoIP calls, plus anything else we find of interest from the world of VoIP. We are not affiliated to Skype itself. The Skype Owl is a plastic outdoor motion sensor and is not affiliated to Skype.com either, but he wishes he were.
###