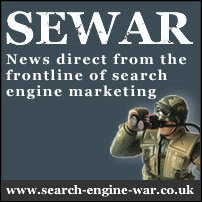 Marketing Firm of the Year
(PRWEB) May 9, 2005
The technical team at Neutralize, the UK search engine marketing agency have launched a new highly acclaimed blog Search Engine War http://www.search-engine-war.co.uk
Frequently updated with all the latest news and advice on organic search engine optimisation, pay per click and contextual marketing, Search Engine War is becoming a leading resource for businesses wanting to keep up to date with the search engine marketing industry.
Search Engine War offers a unique UK perspective on the global search engine marketing industry, and is already acclaimed by a number of the biggest USA based search engine marketing websites. The popularity of the site is due to the reputation Neutralizes technical team headed up by CTO Edward Cowell already have in the UK. The quality incites they can offer, make it a popular resource for site owners and other search engine marketing companies looking to pick up some top level tips. Since launching last week it has seen its visitor numbers increasing massively on a daily basis.
Andrew Thomas an algorithmic search engine specialist at Neutralize said "us guys work with a great variety of clients and are continually coming up with new enterprise search engine optimisation solutions, as well as ideas and perspectives on the search engine marketing industry. Having this team blog gives us somewhere to record these and share them with the rest of the world."
Recent topics on enterprise search engine optimisation have included - "Why bridging pages are fundamentally flawed","Optimising for Google UK Local Search", and a series of discussions on the conflict between "Affiliates vs Search Engine Marketing".
"As soon as we hear about a topic that we think is of interest, or new findings from our own research on search engine marketing we blog it" Says Pay Per Click team manager, Caroline Bielby.
Bloggers include members within the algorithmic search engine optimisation team, pay per click team and online business team.
Search Engine War also features an opt-in mailing list, which already has over 600 subscribers who keep up to date with the Neutralize teams latest views on the industry; new visitors can sign up to the mailing list for free!
You can also download Search Engine War in the latest RSS and Atom content syndication formats.
RSS: http://www.search-engine-war.co.uk/index.rdf
Atom: http://www.search-engine-war.co.uk/atom.xml
About Neutralize
http://www.neutralize.com
Tel: 0870 0630707
Neutralize is one of the UK's leading full service search engine marketing agencies, they provide a one stop solution specialising in enterprise search engine optimisation and advanced Pay Per Click management. In 2005 they were Finalists for "Marketing Firm of the Year" in the UK Innovation and Growth Awards. Neutralize are also an official Overture Accredited SEM (Search Marketing Company), UK Premier Affiliate to Atlas One Point, Contributor Member of SEMPO, Members of the Nominet UK Steering Committee and Committee Members of the Search Marketing Association (UK).
###