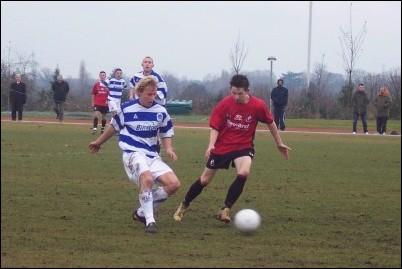 (PRWEB) May 7, 2005
The phenomenal young UEFA Irish football player, Curtis Allen, 17, from the AFC Bournemouth Coca-Cola League, finished the 2004-05 season with 37 goals in 33 games, including nine international goals for Northern Ireland's U-17/U-19 teams. No other Northern Ireland football player has scored more international goals in a season at international level for decades, and Allen is hoping his performance will earn him a spot on the Under-19 team in a continental soccer tournament in Belfast in July.
Monitored by Liverpool, Everton, Blackburn Rovers, Charlton and Wolves and compared to a young David Beckham or Wayne Rooney, Allen also had a spectacular season for AFC Bournemouth FC, scoring in friendly matches and for the Reserves' Under-18 team and Brockenhurst College's (Bournemouth U-18) team.
Allen, of Belfast, and his UEFA soccer fans are waiting to hear whether he will be part of the Northern Ireland Under-19 team in the UEFA championship international soccer tournament in his hometown in July.
"The season has been fantastic," Allen said. "I'm just praying that I get selected for the UEFA Championship 2005 U-19 final. I just love playing for my country and scoring goals. I play every game like it's my last."
Allen scored a hat trick in his UEFA Tournament debut last year as a 16-year-old for Northern Ireland's U-19 team.
Technically, Allen is one of the best soccer players ever to come out of Northern Ireland and has caught the eye of the U-18 England selectors. Joe Roach, the Academy Director of AFC Bournemouth says, "Curtis is great at making and scoring goals out of nothing, but he's still got a lot to learn. I know he's had a lot of publicity over the last year but my message to him is to continue the good work and forget about the publicity." It was reported in Belfast's City life magazine, October 2004 edition that Allen's style of play is similar to Wayne Rooney's power, pace, technical dribbling skill and finishing.
Although Allen has his own style and is slighter than Wayne Rooney, there is no question that he has many of his attributes. Over the last four years, he has scored over 150 goals, says Allen's agent, Gary Nelson (FIFA licensed).
"Allen's massive goal tally over the years and the way he has scored many of those goals, has put him firmly in the media spot light," Nelson said. "You've got to remember, the last player to make such an impact for Northern Ireland was the great Mr Best."
George Best, another phenomenal player from Northern Ireland, watched Allen play in a soccer match seven years ago. "This boy is one to watch out for. He's fantastic," Best said of the then 10-year-old Allen. The December 2004 edition of the "UEFA Champions League" magazine reported that Allen was one of five young players to watch out for in Europe.
Allen attributes his success to hard work and watching the pros. "Hard work is the only way to get to the top," Allen said. "I've read lots of books like David Beckham's autobiography, which includes the amount of practice he and other top pros put into their game. That's why I do the same."
"Bournemouth AFC is a terrific club, and Joe Roach, Academy Director, has helped me tremendously. George Best played his last professional game here and Tottenham FC and England Striker Jermain Defoe played here also. That says it all about the club. I've played three reserve games and I'm just working hard to make my debut for the first team. I know my time will come sooner rather than later."
Allen starred in a radio reality show, "Making It," for Citybeat radio 96.7 FM in Belfast. The show, about a young footballer trying to make it as a professional soccer player, aired from August through January.
Kenny Shields, Northern Ireland U-17 manager, and Mal Donaghey, Northern Ireland U-19 manager, have seen first-hand the damage that Allen can do to oppositions. So
Young Curtis, the "Irish Rooney," waits patiently to see if that elusive envelope from Mal Donaghey will be dropping through the door for the U-19 Championship 2005 final. With the season Allen has had, it's a matter of when and not if.
For more information on UEFA soccer or UEFA football, go to http://www.uefa.com or http://www.bbc.com.
Contact:
Sports Worldwide PR
Ronnie Oliver
60 Askew Road
Shepherds Bush
London, ENGLAND W12 9BH
+44 20 8740 0325