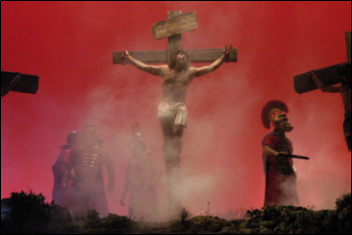 (PRWEB) May 10, 2005
In 2005, The Promise will be celebrating its 17th Season at The Texas Amphitheater in Glen Rose, TX with 40 scheduled performances on Friday and Saturday evenings starting June 3rd and continuing through October 29th. This season, The Promise is staged to become one of the most exciting and memorable events for North Central Texas and all of its communities
The Promise is the unforgettable epic musical drama about the Life of Jesus Christ. Utilizing an award winning musical score, live animals, and a cast and crew of over 150 dedicated professionals and volunteers, the audience witnesses the birth, life, death, burial, resurrection, and ascension of Jesus. The Promise inspires as well as entertains tens of thousands of visitors each summer and provides a means for spiritual renewal to all involved.
In 1984, the dream began--a dream of introducing a loving, laughing, approachable Jesus to the world in a casual, outdoor environment. This dream became a reality with the opening of The Promise in November 1989.
What began as a passion play has become an exciting, live musical drama, a Texas tourist attraction, and a powerful testimony to the entire world. Designed by Peter Wolf of Dallas, Texas, to take advantage of the rolling hills as a backdrop, the Texas Amphitheatre features a Greco-Roman set with 42-foot arches and a six-story archway towering over a 65 x 100 square foot tri-level stage. Construction began on the picturesque site, just off the intersection of US 67 and Texas 144 in Glen Rose in August 1989 and culminated in the opening performance of the contemporary musical drama of Jesus and His compassion for the sick, the downtrodden, the unforgiven.
Word Music originally developed the Promise in cooperation with Kingdom Development Company from the original script by Dr. Jan Dargatz and music produced by Gary Rhodes. The Promise in Glen Rose is licensed by Kingdom Development to produce the show at the Texas Amphitheatre.
Just as the disciples brought varying backgrounds to Jesus' ministry on earth, the dreamers, creators, and performers of The Promise have brought different ideas, beliefs, and styles to the musical drama. All contributors have been instruments of the Holy Spirit brought together in God's perfect timing to bring His message, His Promise, to the world.
For more information on The Promise and for ticket information, visit http://www.thepromiseglenrose.com.
Also, for information on the city of Glen Rose, lodging and tickets visit http://www.glenrosearea.com.
###