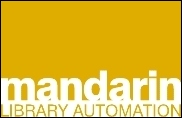 Boca Raton, FL (PRWEB) May 11, 2005
"By offering our flexible, award-winning library automation software free of charge and making the shift to a services-based model, we will be able to provide services to a wider customer base, enhance existing services, and continue to develop innovative software solutions for our customers," said Harry Kaplanian, Vice President of Software Development.
The free Mandarin M3 software download is available at http://www.mlasolutions.com or a free CD can be requested from automation@mlasolutions.com ($14.95 shipping fee applies in the U.S. and Canada; other countries, call for shipping quote).
The free download of M3 includes OPAC, Cataloging, Circulation (includes basic reporting), Inventory, and Group Editor. An annual Service & Update Agreement (SUA) for M3 is available $575 per site. The SUA includes:
M3 Report Generator and reports
Unlimited technical support
Product updates
M3 utilities
Access to Customer's Corner on the Mandarin Web site, which includes downloads, documentation, and
the Mandarin Knowledge Base
Membership to the Mandarin Listserv
The free version of M3 will not include the SUA benefits listed above. Pricing for all M3 optional modules will remain the same. For a list of optional modules and prices, visit http://www.mlasolutions.com/products/pricing.htm.
About Mandarin Library Automation, Inc.
Mandarin Library Automation, Inc. delivers library automation solutions utilized by thousands of school, public, academic and corporate libraries in over 50 countries. In addition to M3, Mandarin offers a Web-based library management system, full Authority Control, a federated search portal, Z39.50 client and server software, Classic and Virtual Union Catalogs, Serials and Acquisitions, and numerous other optional modules to provide libraries with fully customized systems. For more information, call Mandarin Customer Service at (800) 426-7477 ext. 700 or e-mail mariom@mlasolutions.com.
###