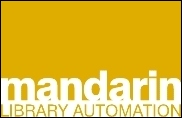 Boca Raton, FL (PRWEB) May 12, 2005
Oasis supports Unicode™, a universal encoding standard that greatly simplifies the sharing of multilingual text. This allows libraries to display their collections and the Oasis interface in Hebrew, Arabic, Greek, Armenian, Chinese, and virtually any other language.
"Mandarin Oasis is an exciting new advance in library automation, offering customers a full range of features with enormous flexibility," said Mandarin President Leonardo Lazo. "I think it will revolutionize library resource management, helping us to achieve our ongoing goal of facilitating access to library resources."
Oasis helps single sites and districts lower their costs and save time with one-point installation, maintenance and updates. Optional add-on modules include Authority Control, SIF Agent (for Schools Interoperability Framework compliance), PACPortal, Syndetic Solutions, Union Catalog and Z39.50 integration.
Oasis is a seamless upgrade from Mandarin M3®, Mandarin Library Automation's award-winning, Windows-based automation system that is now offered as a free download.
Whether a library's collection numbers one thousand or one million, Mandarin Oasis and Mandarin M3 with optional add-on modules offer complete solutions to meet the needs of each individual library.
For more information on Mandarin Oasis or to schedule an online demonstration, call Mandarin Customer Service at (800) 426-7477 or visit http://mlasolutions.com/products/oasis.htm.
About Mandarin Library Automation, Inc.
Mandarin Library Automation, Inc. delivers library automation solutions utilized by thousands of school, public, academic and corporate libraries in over 50 countries. Founded upon a solid foundation of experience, technological expertise and strong, long-term relationships, Mandarin is committed to providing affordable and reliable products and services. Mandarin's participation in standards activities, including Schools Interoperability Framework (SIF), ensures that the latest technological developments are quickly available to customers. Visit our web site at http://mlasolutions.com.
# # #