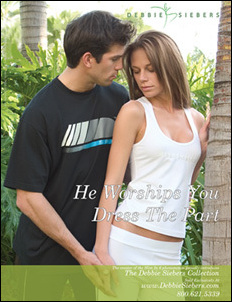 (PRWEB) May 10, 2005
Los Angeles, CA (PRWEB) May 10, 2005 –Debbie Siebers, the health & fitness industry's leading lady, revealed in a surprise announcement today that her women's apparel label, The Debbie Siebers Collection would commence its first national advertising campaign, in the mega-popular Women's Health & Fitness Magazine. The stunningly sensual ad will be featured in the June 2005 issue of the publication, due to hit news stands on May 24.
The advertisement is a piece of the "Dress the Part" campaign for the clothing collection. In the ad, a muscular man gazes longingly at a striking woman in one of Siebers' ensembles. The headline simply reads, "He worships you. Dress the part."
"We decided to debut this beautifully lush ad in Women's Health & Fitness Magazine, because they are one of the top publications for active women who care about their health, fitness, beauty, and fashion. These are the same women who are Debbie's biggest supporters," said Chairman Don Polk of Romar Studios, Inc., the company in charge of the brand.
Women's Health & Fitness Magazine boasts a monthly readership of nearly 800,000—readers the Debbie Siebers' management team believes will turn into clients as they discover the ultra-soft material, the comfort, and the high-quality production that goes into the clothing line.
Siebers, for one, is excited. "I practically live in my casual & sportswear, as many women do. Instead of throwing on a pair of jeans to run to the market, I wear my workout clothes. Despite that, I still want to feel good in whatever I'm wearing. Just because I'm dressing in my casual clothes doesn't mean that I shouldn't be able to feel like a million bucks. The Debbie Siebers Collection allows that. Women will not only be extremely comfortable, but also feel gorgeous as well."
The shirts and pants are created with a breathable blend of cotton with a hint of rayon and Lycra to help the clothing keep their shape. The clothing may be best described as classic pieces, each with a bit of a fashion-forward edge.
"Every woman has something about their body that they do not like. My clothing collection accentuates the positives of a woman's body, while minimizing the negatives, allowing every woman to feel beautiful," Siebers explains.
For over twenty years, Siebers has inspired people to achieve physical fitness through her associations with Body-by-Jake, BeachBody, and Slim in 6. Over the past season on FOX Television's hit reality show, "The Swan," she starred as its health & fitness expert. The Debbie Siebers Collection is sold exclusively at http://www.DebbieSiebers.com.
For more information contact:
Jeffery "Julien" Price
Marketing Director
Romar Studios, Inc.
(213) 621-4409
# # #