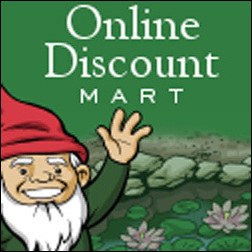 be sure to get applique flags, instead of screenprinted ones. They last longer and are much higher quality.
(PRWEB) May 17, 2005
Everyone spring, gardeners look out into their yard and think about what to add to make theirs stand out from all the others in the neighboor. A few more flowers here, maybe a hanging planter there. Maybe a little rock garden. These days, there are so many choices of what to add, sometimes it can be a little bit overwhelming.
Online Discount Mart has added several new lines of products to make decorating the yard or garden a lot more enjoyable.
"We've expanded our line of traditional favorites, such as bird baths and bird feeders. New vendors are being added all the time to our selection. We now stock items from over ninety different suppliers - up from about twenty this time last year," noted Johann Erickson, owner of Online Discount Mart.
He noted that vendors such as Evergreen have stepped forward and offered a fine line of Stepping stones to Online Discount Mart's inventoy. "Adding Evergreen's products, especially their stepping stones, to our inventory has really increased our selection - as well as the value to the consumer. Our new stepping stones are about 5 times larger than our old ones, yet only cost twice as much, but they are many times better - in terms of both quality and design," added Erickson.
"Ladybugs are very popular this year, so we have added many new ladybug items - from key hiders, to flags, to stepping stones," he continued.
For your patio, or even for low hanging trees, wind chimes are the perfect accessory. Erickson noted that Online Discount Mart approached companies such as Caramba Chimes and Care & Wonder - as they both have a reputation for superior quality - for these new wind chimes. They are very melodic, and make a subtle enough noise not to scare off any birds or other animals that may be hanging around.
Evergreen also offered Online Discount Mart a chance to add a totally new line to its selection this year - decorative flags. Hung from the side of your house or your patio (smaller versions that you can put in your garden or attach to your mailbox are called garden flags); they show off your personality and are very eye catching. From frogs, to ladybugs, to hummingbirds, and of course the American Flag, there are many types of decorative flags available. Erickson added, "be sure to get applique flags, instead of screenprinted ones. They last longer and are much higher quality."
Online Discount Mart also continues to add to its collection of lovable gnomes. "Since we've added gnomes to our garden accessories; they have instantly become a best seller. Our Customers love them. We have had many order one; and a few weeks later call us up wanting to get more or asking when we will be adding new styles. We've answered their call and have added four new styles last month alone," Erickson added.
For a more traditional garden decor look, you can add sundials to your garden decor. These pieces use the light of the sun to tell time. "Since Egyptian times, sundials have been used to tell the time. Having one is like having a piece of history in your yard. We carry almost thirty different styles of sundials," said Erickson.
Accessorizing your garden is the most fun you'll probably have in your garden this year. "Forget about weeding for a few hours, check out some garden accessories today and add some personality to your yard. You will not regret it," said Erickson.
# # #