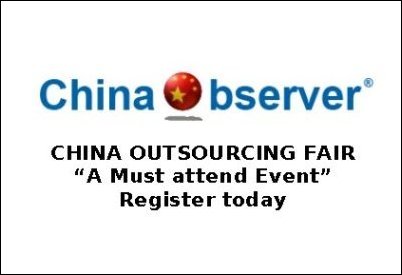 (PRWEB) May 11, 2005
Twenty five years after Deng Xiao Ping declared the fishing village of Shenzhen and the surrounding Province to be China's First Special Economic Zone. Shenzhen has now grown to a mega city of 11.0 million inhabitants - arguably, China's third city and Shenzhen's City Fathers are working toward the opening of the world's largest Outsourcing Fair in city's newly opened colossus of a Convention and Exhibition Center.
Superlatives are inadequate to describe the event; as a specialist trade fair, the China Outsourcing event is huge. Covering 30,000 square meters, the event showcases Chinese suppliers from wide range of sectors including Information Technology, Computer, and Telecommunications (ICT), Electronics, Manufacturing, Logistics, Services, Application development and Support and Business Process Outsourcing, Aero and Automotive Sectors as well as seeing procurement specialists, outsourcers, and senior executives from around the world.
Concurrently there are two major conferences – China Outsourcing Conference - theme "China Int'l Outsourcing Trends and Developments" and the China's Supply Chain Management Conference - "China: New Frontier of Logistics and Supply Chain Management". Exhibitors including MNCs, Major Chinese Corporations and a myriad of large and medium sized Chinese companies, already the organizers have got wind of major multi million dollar deals that will see work moving around the globe and coming to China.
So popular is the event that the Organizers have brought in extra resources and have engaged the Shenzhen and Singapore based China Observer organization to help deal with the inflow of registrations from international visitors. With a bilingual and bicultural capability, and staff who have had previous event management experience, the China Observer team will deal with international applicants who apply after the beginning of May.
Singapore based China Strategy Experts, Temasys International, mark this event as a must visit for Senior Executives, Strategy Professionals, Outsourcing Professionals, and Supply Chain and Procurement Specialists who have an interest in China whether from MNCs, Tier 1, or Tier 2 Companies around the globe. Bill Lewis, Managing Director of Temasys International, a China veteran and experience international businessman who has conducted business in over thirty countries says "This is the most important event in China this year. In a calendar over laden with conferences, this one is a must. It is the first time China has showcased its outsourcing capability in this way and I think we will see some spectacular announcements. Our advice to anyone considering doing any kind of work in China is 'be there'."
China Outsourcing Fair – Shenzhen, China 8 - 10 June 2005. Authorized by Ministry of Commerce of China the China Outsourcing Fair is hosted by China International Center For Economic And Technical Exchanges and Shenzhen Association Of Enterprises With Foreign Investment. International registration available at China http://www.chinaobserver.cn/chinaoutsource.html
China Outsourcing Fair information is at http://www.chinaobserver.cn/chinaoutsource.html and at http://www.outsourcing.org.cn
China Observer contacts: mindy.tan@chinaobserver.com - +65 9436 6333
Temasys contact: Bill Lewis bill.lewis@temasys.com.sg +65 9839 5371
Bill Lewis's profile is available at http://www.temasys.com.sg
# # #