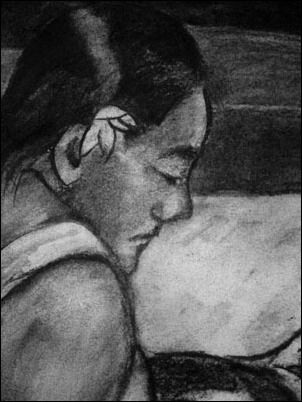 (PRWEB) May 14, 2005
The rare Paul Gauguin art that has come out of hiding after more than 100 years along with Peter Teekamp's unpublished book, "Reincarnation for Dummees?" and many other items have attracted hundreds of visits in the first five days of a 10-day eBay auction.
All of the items in the auction are part of what Teekamp calls a phenomenal, "stranger than fiction" scenario that goes like this: By 1978, Teekamp had experienced numerous inexplicable connections with another artist from another century, Paul Gauguin. As he began to study the artist, he discovered hidden faces throughout the late artist's work that no one had noticed in more than 100 years. He decided to write it all down in a journal, astounded by the one important coincidence that he himself had been hiding faces in his own artwork years before ever making the discovery.
In 1998, with a growing list of mind-boggling parallels and coincidences, including the fact that he even looked like Gauguin, Teekamp found a co-author to help get his biography written – Michelle Moshay.
In 2003, within days of a January 1st deadline to finish his manuscript, the most amazing coincidence of all occurred. Teekamp walked into a restaurant and saw a Paul Gauguin print hanging on the wall. Only later did he learn that the "print" was an original charcoal drawing that had been given as a gift to the great grandmother of a family living in the Polynesian islands 100 years before. The family had never questioned the identity of the artist. Teekamp offered his knowledge of Gauguin for free, astounded to be part of its discovery. After initial discussions of what was involved to authenticate the drawing the family decided not to wait. They told Teekamp that they would sell it to anyone that could give them $5,000 and asked if he would like to be the buyer. After urging them to wait and not wanting to see a potential treasure sold away to obscurity, Teekamp accepted the offer and purchased the art. Teekamp's discovery of the drawing only added to the phenomenal connection he has to the late artist.
In order to provide evidence to one of the most unusual and astounding cases of synchronicity ever recorded, Teekamp has combined the sale of the original Paul Gauguin drawing with his own lifetime art and book collection, plus 50 percent royalties for the first five years on his yet unpublished true life story, "Reincarnation for Dummees?"
The auction lasts until Wednesday, May 18, 7 p.m. PST. To find the auction, visitors can search for "Original Paul Gauguin Drawing" on eBay.
To learn more about Peter Teekamp and the comparisons to Paul Gauguin the artist, please visit http://www.peterteekamp.com.
# # #