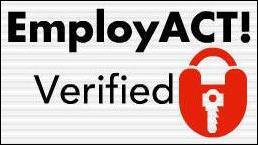 (PRWEB) May 16, 2005 -
Companies conducting background checks for employment screening can now do it online safely, securely and professionally at http://www.Employact.com.
The new EmployACT Web site focuses on education verification to help companies with prospective employee screening for job applicants whose resumes may boast of fake diplomas or ones from a diploma mill.
"Our employment screening process will put the diploma mills out of business," said Samuel Anderson, CEO at Employact.com. Its proactive, patent-pending education verification technology provides the only service on the Web that can authenticate job hunters' past and present employment and education in real time.
EmployACT only certifies trusted and accredited or licensed institutions and is poised to become the world's most trusted and comprehensive place for employment screening.
"Every company worldwide can use our education verification services," Anderson added.
Employact.com services, which also includes resume posting for job seekers and job posting for employers, eliminate the need for job hunters and employers to use separate services for job applications, resume postings and employment background checks for military service, work history and educational degrees.
Anderson noted that the General Accounting Office recently reported that nearly 200,000 federal employees have lied on their resumes. EmployACT, Inc. operates intelligent authentication infrastructure services to verify, find and connect across today's global networks for work and education verification. Most importantly, EmployACT protects the privacy of applicant/employees as well as employers, and both parties are in complete control of the dissemination of their information.
Employact.com helps job seekers by providing a single place where potential employers can verify applicants' work histories. At the request of the applicant, Employact.com conducts employee background checks, education verification and other employment screening for a reasonable one-time fee. Job seekers can simply inform prospective employers that their educational and work background have already been authenticated by Employact.com or refer the employer to http://www.employact.com. Similarly, employers can request that job applicants use the EmployACT system for pre-screening, eliminating all liability on the employer.
"It's a one system, one place, one time service that you use and you have full control, full privacy," Anderson said. "You disclose what you want to disclose."
Within its member network, employers and job hunters can communicate with each other in a trusted environment, knowing that only the information they want revealed to another member will be revealed – and verified. For instance, a job hunter can send her resume into the EmployACT system but have it hidden from her current employer.
Employers can search in the system for candidates whose education (and in some cases work experience) has been verified and communicate with potential job candidates via a personal communications tool (PMB) that protects personal e-mail addresses.
"Using the EmployACT system will eliminate liability for accidental misuse of material found in background checks and cut down on identity piracy," Anderson said. EmployACT uses only certified public accountants, attorneys and commissioned Notary Publics who are up to date on current laws to conduct the employment background checks. Its user-friendly system is secure, controlled by its members and authenticated and verified by EmployACT.
"EmployACT is the only company offering these services, and we back it up with a $100,000 insurance bond to protect employers or applicants from any mistakes, omissions or misrepresentations by us," Anderson said.
While launching its new Web site, EmployACT is also offering background checks to its members who use any online dating service so that their employment and education can be verified by a prospective date. The service is for members who are serious about finding that special someone and who still want complete control of their personal information as with their background checks. Furthermore, it validates to the other person, "I am for real."
An annual membership fee at EmployACT.com is typically $15 for individuals, but the introductory fee will be $3 for new members until June 15. Membership fees for employers are reasonable, and they have various options to choose from for limited or unlimited employment screening and pre-employment screening. A listing of other fees can be found at http://www.employact.com/static_pages.php?page=21.
EmployACT is also actively seeking to hire marketing executives with the ability to aggressively build an organization. Experience in sales and marketing is preferred, but not required. More information on job opportunities at EmployAct.com is available by clicking on Opportunities at http://www.employact.com/.
About EmployACT
EmployACT is a new online employment screening company primed to become the world's new standard for employment screening. It uses patent-pending technology to help companies conduct background checks on prospective employees safely, securely and professionally. Focusing on education verification, EmployACT also aids job applicants by authenticating their employment and education credentials. EmployACT only certifies accredited or licensed institutions. Institutions wishing to contact EmployACT should do so through an online form at http://www.employact.com/contact_us.php.
Contact:
Klaas Van Halen, Director Media Relations
EmployAct.com
775-580-9900
# # #