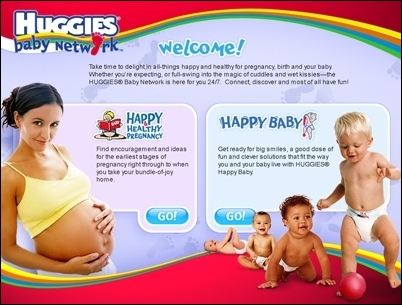 Understanding our consumers' needs and exceeding their expectations is our priority
Neenah, WI (PRWEB) May 17, 2005
Kimberly-Clark Corporation (NYSE: KMB) announced today the launch of HUGGIES® Baby Network (http://www.huggiesbabynetwork.com)], a new online network that delivers one-of-a-kind tools, information and a support community to moms and moms-to-be in a fun, informative way. A one-stop information resource for women on their journey from pregnancy, birth through motherhood, the HUGGIES® Baby Network features two sites, "Happy and Healthy Pregnancy" and "Happy Baby." Each delivers innovative, interactive tools, access to experts, an online community, and useful information designed to guide women into motherhood from the earliest stages of pregnancy.
HUGGIES® Baby Network has been designed to meet a growing market need. According to a recent study¹ of expectant and new moms, nearly half agree there is no single Web site that currently guides them through the journey of pregnancy into motherhood. In addition, 73 percent are looking online for fun activities to play with their baby or young child.
Innovative Tools Add Fun for Life with Baby
In an effort to enhance the emotional connection between mom and baby, HUGGIES® Baby Network provides never-before-seen proprietary online tools that inject a true sense of fun into every day planning and life activities.
*Activity Playhouse provides hundreds of fun activities that are easily searched by age, skill, duration or keywords.
*Keepsake Storybook is an online scrapbook that makes it easy and fun for moms and moms-to-be to share magical moments of their journey into motherhood with their friends and family.
*Virtual Room Creator is a decorating tool that allows moms to design their nurseries with the click of a mouse! Moms-to-be can easily create a personal floor plan, arrange furniture and test color combinations. Room designs can be saved, revisited and modified.
*Information Central features online advice from Sandy and Marcie Jones, best-selling co-authors of "Great Expectations: Your All-in-One Resource for Pregnancy & Childbirth." Additionally, it delivers up-to-date relevant information from best-of-the-Web articles, more than 300 Special Picks from the HUGGIES® brand and audio interviews from industry experts.
*Sharing Space is an online, interactive community for moms and moms-to-be. Within the pregnancy site, expectant moms will also have the opportunity to submit questions to Sandy and Marcie Jones and receive personal responses on a weekly basis.
"Understanding our consumers' needs and exceeding their expectations is our priority," said Bruce Paynter, president of North America Baby Care at Kimberly-Clark. "We listened and delivered HUGGIES® Baby Network to meet that need for moms by providing them relevant information, support and activities that allow them to spend more time with their babies."
For more information on HUGGIES® Baby Network, visit http://www.huggiesbabynetwork.com. Visitors going to the company's former site http://www.huggies.com or http://www.parentstages.com will automatically be redirected to the new network.
About Kimberly-Clark
Kimberly-Clark and its well-known global brands are an indispensable part of life for people in more than 150 countries. Every day, 1.3 billion people--nearly a quarter of the world's population--trust K-C brands and the solutions they provide to enhance their health, hygiene and well being. With brands such as Kleenex, Scott, Huggies, Pull-Ups, Kotex and Depend, Kimberly-Clark holds the No. 1 or No. 2 share position in more than 80 countries. To keep up with the latest K-C news and to learn more about the company's 132-year history of innovation, visit http://www.kimberly-clark.com.
¹Kimberly-Clark online survey, 2005
For more information:
Jennifer Ryan, (414) 227-1533
Leslie Stachowiak, (414) 227-3504
# # #