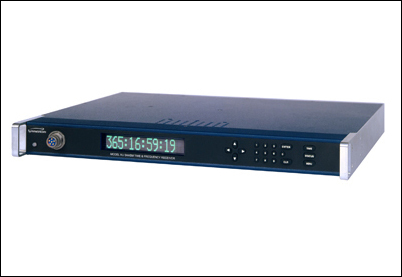 San Jose, Calif. (PRWEB) May 17, 2005 -
Symmetricom (NASDAQ:SYMM), a leading worldwide supplier of network synchronization and timing solutions and atomic clocks, today announced a new Time and Frequency Receiver that meets the Global Positioning System (GPS) security requirements of the U.S. Department of Defense (DOD). The new XLi SAASM Time and Frequency Receiver is an ultra precision instrument with a secure, Selective Availability Anti-Spoofing Module (SAASM) based GPS receiver. SAASM is the security architecture selected by the Joint Chiefs of Staff (JCS) to provide the next generation security functions for GPS authorized military users. The XLi SAASM will be showcased at AFCEA's TechNet International 2005, May 17-19, 2005, at the Washington, D.C. Convention Center, Washington, D.C., Booth #426.
The XLi SAASM has also been granted security approval by the GPS Joint Program Office (JPO) which confirms the product meets the latest security requirements of the DOD. JPO has the overall responsibility for controlling the development, production, sale and distribution of GPS SAASM security devices. JPO security approval is required prior to sale and use of the XLi SAASM by authorized customers.
"Symmetricom has been the premier provider of secure GPS based time and frequency solutions since launching the Mark V™ P(Y) Code Time and Frequency Receiver in 1996," commented Ron Holm, product manager for Symmetricom. "Now, with the new XLi SAASM's modern platform, extensive functionality and high value, we expect Symmetricom will continue as the premier time and frequency solution provider for mission critical applications such as synchronization and encryption of military communication networks."
The XLi-SAASM is based on Symmetricom's XLi Time & Frequency System, the most precise, versatile and flexible solution for timing and synchronization requirements introduced in 2002. The XLi SAASM is available in three configurations and provides a number of high performance features, including: 1) plug and play architecture, 2) redundant time sources, including dual SAASM GPS receivers, 3) network based remote management, 4) field upgradeable software, 5) redundant power supplies and 6) a wide variety of high performance hardware and software options such as the N.1 Frequency Synthesizer to drive communication system encryptors.
Taking into account the Joint Chiefs of Staff mandate that all procurement of non-SAASM GPS user equipment by the US military will be disallowed effective October 2006, unless waivered, the XLi SAASM provides the highest immunity to jamming plus multiple options that enable military users to tailor their systems to support nearly every possible output/input needed for time and frequency applications.
Availability
The XLi SAASM Time and Frequency Receiver will be available in July 2005. For more detailed information and to get price quotation, please click here.
About Symmetricom, Inc.
As a worldwide leader in precise time and frequency products and services, Symmetricom provides "Perfect Timing" to customers around the world, including communications service providers, network equipment manufacturers, U.S. Department of Defense (DOD), aerospace contractors, enterprises, governments and research facilities. Since 1985, the company's timing, frequency and synchronization solutions have helped define the world's standards, delivering precision, reliability and efficiency to wireless and wireline networks, instrumentation and testing applications and network time management. Deployed in more than 90 countries, products include atomic clocks, cesium and rubidium standards, VME, crystal oscillators, PCI cards, Global Positioning System (GPS) solutions for instrumentation applications, as well as network time servers for Network Time Protocol (NTP) synchronization and time synchronization solutions. Symmetricom is based in San Jose, Calif., with offices worldwide. For more information, visit http://www.symmetricom.com.
All trademarks recognized.
Raychel Marcotte
BroadPR
617-645-6022
Jeanne Hopkins
Symmetricom
978-232-1487
###