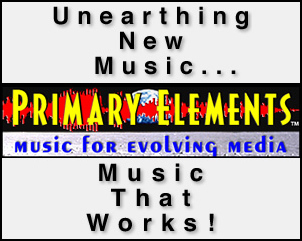 Petaluma, CA (PRWEB) May 19, 2005
Primary Elements (http://www.PrimaryElements.com/) announced today that they have significantly reduced pricing for their royalty-free buy-out production music CD Collections, have unearthed over 100 new compositions from artists all over the world, and are now donating 2% of their web music licensing sales to UNICEF and the American Cancer Society. They are also very pleased help support the National Endowment for the Arts.
The newly reduced CD Collections, which include First-Class shipping and are processed within 48 hours of ordering, contain from 8 to 39 unique themes on each CD-ROM. The discs include both full-res masters and 128k mp3 audio files and are now priced from just $25 to $50. Several of the CD's include bonus precision-edited Flash-ready loops based on the enclosed themes and continue to be a huge hit with media producers worldwide, with several new CD releases now in the making.
With new artists from California, Virginia, Pennsylvania, New Hampshire, New York, Ontario, Germany, Italy, Spain and the UK, Primary Elements extends its existing libraries and adds 3 more - GlobalMix, JazzGreats, and SpecialSeasons. Poised to serve a growing global clientele, the new selections range from authentic acoustic World Folk music to Experimental Jazz, and include a variety of seasonal favorites, intricate cinematic themes, and a few eclectic vocal tracks perfect for indie film projects from groups "Smooth" and "The Kind."
In addition to their affordable instant-downloads, the service is now offering their entire 17-CD buy-out library for 20% off the already discounted individual CD licenses - an $813 value for only $650 and almost $3000 off their individual license prices for the same material.
This bulk licensing package contains over seven hours of original music in 293 music tracks, and also includes 1142 bonus GrooveElements Flash-ready full-resolution music loops ready to drop right into any digital production environment. Like the individual CD's, the package comes with a 100-year multi-use multimedia synchronization license and includes both full-resolution and mp3 audio files.
The music on Primary Elements covers a wide range of styles and caters to the advertising, interactive, video game, film, theater, broadcast, DV, Flash, QuickTime, corporate, telephony, podcasting, education, and other multimedia markets. All tracks can be previewed online as full-length, high-quality demos using their custom-designed Flash Audio Player, and are available as individual synchronization licenses for any market.
Primary Elements is now donating 3% of its web music licensing sales to UNICEF, the National Endowment for the Arts, and the American Cancer Society.
About Primary Elements
Since 1998, Primary Elements has been offering unique music for evolving media, providing producers in all markets with high-quality production music licensing at very affordable rates.
Owned and operated by composer/producer Mark Lindsey, the first person to offer online production music audio previews as "Snip-Clips" from his original company, Lindsey Sound Design, on then emerging services CompuServe and America Online in 1994. Lindsey and his team of artists around the world are also available for music scoring, production, editing and sound design services.
Note to Editors: For additional information please contact Mark Lindsey by email at pepress@primaryelements.com or by phone for an immediate response. Additional linking options can be found on our web site at (http://www.PrimaryElements.com/html/affiliates.html).
Primary Elements and the Primary Elements logo are trademarks of Mark Lindsey and Primary Elements. Additional company and product names in this press release may be trademarks or registered trademarks of the individual companies and are hereby respectfully acknowledged.
Copyright 2005 Mark Lindsey and Primary Elements
# # #