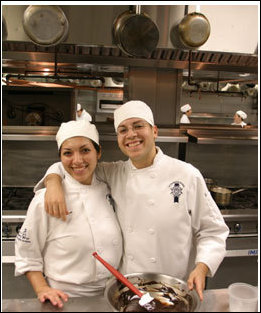 PASADENA, CA (PRWEB) May 23, 2005
The California School of Culinary Arts (CSCA) will follow last year's pilot program of cooking classes by launching an all-new series of hands-on classes this spring for cooks of all experience levels. Chef instructors from CSCA will teach students in the school's professional-grade kitchens. Cooking classes will include such topics as summer BBQ and Thai and Indian cuisine.
"Because of the great response from last year's pilot program, we are launching this program full force with class options designed for the cooking enthusiast in mind. Each of these classes are pertinent to the season and offer the enthusiast a one-of-a-kind, hands-on learning experience with our chefs," said Megan Manion, Director of Marketing for the California School of Culinary Arts.
"It was an amazing experience and I would like to take future classes," said West Hills' resident Joe Henson, who attended the pilot program in 2004.
The class schedule 2005 includes the following Saturday classes from 9:00 a.m. to 1:00 p.m.:
o June 18 Summer BBQ ($85)
o July 16 Sauces ($65)
o August 20 Thai and Indian Cuisine ($85)
o September 17 Knife Cuts: Slice and dice like a pro! ($65)
o October 15 Fast Food: Quick-cook recipes with five ingredients or less ($65)
o November 19 All About Meats ($85)
o December 17 Candy Making ($65)
All cooking classes provide students with the necessary ingredients and kitchen tools to prepare the dishes with ease. Classes will be held on the campus of the California School of Culinary Arts, located at 521 E. Green Street in Pasadena, CA. For reservations, please call 626-683-1354.
About CSCA:
California School of Culinary Arts in Pasadena offers students a hands-on educational experience with an experienced faculty dedicated to providing students with the necessary skills, knowledge, support and guidance to develop a successful career in the culinary arts. For more information, go to http://www.csca.edu/contactshort/index.asp?src=30555.
Contact:
Pearson Brown
310-452-7540
pearson@allisonpr.com
Allison & Partners
###