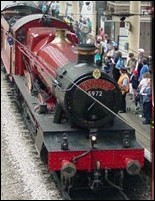 Harry Potter and the Half-Blood Prince
Colorado Springs, CO (PRWEB) May 25, 2005
They say timing is everything, and Beyond Boundaries Travel has proven to have mastered that skill by scheduling the 2005 HP Fan Trips to coincide with the July 16 release of "Harry Potter and the Half-Blood Prince". Just two weeks after the book's release fans from around the world will converge in Great Britain for a Harry Potter-themed tour and undoubtedly to discuss book six.
"One of the most exciting things for fans is to be able to meet new friends to talk about all things Harry Potter," said Jeff Guillaume, webmaster of HPANA.com, a JK Rowling Fan Site Award winner and sponsor of HP Fan Trips. "Being surrounded by the very history and culture that is home to Harry adds an extra level of excitement."
The HP Fan Trips offer a rare opportunity to explore locations used in the movies. And while many trips are sold out, Beyond Boundaries Travel still has some very affordable options available, designed with fans on a budget in mind.
The London/Oxford itinerary (July 31 – August 6) offers an exciting exploration of London and Oxford through the eyes of "Harry Potter" and other legends that have inspired English writers for centuries. Perfect for first-time travelers to England, this itinerary includes the best sight-seeing locations in London. Pricing is $1399/pp double occupancy, not including airfare.
Travelers wanting just a little more time can choose the Scotland itinerary (July 31 – August 7) that includes Oxford sight-seeing spots with the addition of Alnwick Castle and a day spent in Edinburgh to enjoy the internationally famous Edinburgh Festival. Pricing is $1749/pp double occupancy, not including airfare.
A days' ride on Engine #5972 Olton Hall (recognized by aficionados as the "Hogwarts Express") is one of the highlights of these trips. Sit in the very carriages used in the Harry Potter movies and participate in divination classes, stories and fun on an all day adventure as the train travels through the beautiful English countryside.
Visit the web at http://www.hpfantrips.com/ to learn more details about these exciting fan trips, or contact Beyond Boundaries Travel at 800-487-1136.
Contact:
Jeannie Barresi
Beyond Boundaries Travel
TEL: 800-487-1136
E-MAIL: jeannie@beyondboundariestravel.com
WEB: http://www.hpfantrips.com
# # #