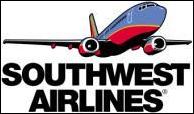 Dallas, TX (PRWEB) May 26, 2005
WHO: Herb Kelleher, Exec. Chairman, Southwest Airlines (NYSE: LUV) - in Washington, D.C. and Colleen Barrett, President, Southwest Airlines - in Dallas
WHAT: Herb and Colleen will host interested media following a Capitol Hill press conference today hosted by U.S. Reps. Jeb Hensarling and Sam Johnson, both from Texas. The congressmen will introduce a bill to immediately repeal the Wright Amendment, which artificially keeps airfares high to and from the Dallas/Ft. Worth market by preventing low fare competition from Dallas' Love Field airport.
WHEN: Thursday, May 26, 2005
1:00 p.m. EDT (Herb in person for D.C.-area media)
2:00 p.m. EDT/1:00 p.m. CDT (Herb via conference call, for national media)
Colleen will be available for Dallas-area media upon request.
WHERE: St. Regis Hotel - Monticello Room (Lower Lobby)
16th & K Streets, NW
Washington, D.C.
Southwest Airlines Corporate Headquarters
2702 Love Field Drive
Dallas, TX
CONFERENCE CALL: 2:00 p.m. EDT/1 p.m. CDT
Credentialed media should call 800/395-0708 and give the passcode of 2334254.
WHY: or OTHER FACTS: "The Right to Fly Act" is the first legislation to be introduced since the need for the Wright Amendment was last called into question in November 2004. The 26-year-old congressional amendment limits nonstop flights from Dallas' Love Field airport to Texas and its four touching states (three additional states were added in 1997). Designed to protect a then-fledgling DFW International Airport, the Wright Amendment now prevents meaningful low fare airline competition to and from the Dallas/Ft. Worth travel market and serves to keep airfares high.
Media Contact:
Public Relations of Southwest Airlines
+1-214-792-4847
Customers:
+1-800-I-FLY-SWA or +1-800-435-9792
en Espanol:
+1-800-VAMONOS or +1-800-826-6667.
# # #