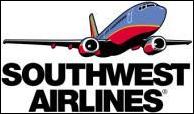 Dallas, TX (PRWEB) May 26, 2005
Today, Southwest Airlines (NYSE: LUV) Chairman Herb Kelleher commented on legislation introduced by two Texas congressmen to repeal the Wright Amendment that unfairly restricts flights at Dallas Love Field. The following are excerpts from a press briefing:
"Southwest Airlines has been a bonanza in markets where we are allowed to offer unbridled, unconstrained, unshackled, low-fare service; not only by increasing traffic, but by creating a boon to local economic development," said Herb Kelleher, Southwest Airlines Executive Chairman. "Any time competition is fettered, it is a penalty to consumers.
"The size of Southwest Airlines' task force may pale in comparison to our competitors," Kelleher continued. "All we have is truth, right and justice on our side -- which makes us very successful. Those who are working to abolish the amendment are standing for the American people, for consumerism, and for free enterprise.
"There are crazy, weird, bizarre restrictions about what passengers can and can't do at Love Field; getting rid of the restrictions would be a considerable boon to the United States and our Customers. We are asking Congress to eliminate limitations that should have never been imposed in the first place; we are asking for the freedom to compete," Kelleher concluded.
"The Right to Fly Act" is the first legislation to be introduced since the need for the Wright Amendment was last called into question in November 2004. The 26-year-old congressional amendment limits nonstop flights from Dallas' Love Field airport to Texas and its four touching states (three additional states were added in 1997). Designed to protect a then-fledgling DFW International Airport, the Wright Amendment now prevents meaningful low fare airline competition to and from the Dallas/Ft. Worth travel market and serves to keep airfares high.
Note to Editors: To receive future releases automatically via e-mail, sign up for e-mail news alerts at http://www.southwest.com . Just click on "About SWA" and "Press Releases."
Media Contact:
Public Relations of Southwest Airlines
+1-214-792-4847
Customers:
+1-800-I-FLY-SWA or +1-800-435-9792
en Espanol:
+1-800-VAMONOS, or +1-800-826-6667
# # #