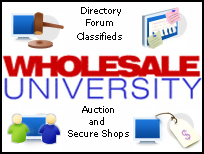 The Good, The Bad, and They Ugly
(PRWEB) May 29, 2005
Besides being a network of qualified buyers and sellers, Wholesale U also features the only online forum that is the ombudsman of the surplus and salvage industry. You can literally find out "The Good, The Bad, and They Ugly" of just about any of the featured dealers. Forum members share their positive buying experiences, and also let the "buyer beware" of any company that is engaged in fraudulent selling transactions, reducing purchasing pitfalls.
Even though the overall focus is on the wholesale merchandise industry, WholesaleU.com also features surplus, overstock, liquidation, and off-price apparel dealers that will appeal to Business Start-Ups, Ebay Auction Sellers, Flea Market Dealers, E-Commerce Websites, Retailers, Dollar Stores, and just about anyone who is looking for products to buy, and then resell. You can find some of the best liquidation deals on apparel, electronics, novelties, furniture, and general merchandise in a variety of popular brand names from over 1800 listed wholesale suppliers.
Wholesale U offers an innovative e-commerce shopping cart that allows competing wholesalers to increase sales, and expand their market share. Both wholesalers, and surplus liquidation dealers, will have the ability to develop their own personal online storefront with unlimited picture hosting services to showcase their wholesale product offers. You can stop loosing sales and collect payments real-time via authorizenet (merchant account required) and or paypal.
Retailers and product resellers, who are frustrated by the lack of quality supplier sources, Wholesale U offers the ability to build relationships with a variety of vendors in one central location and a forum that allows them to check out that vendors reputation and customer service record before they buy.
If you are one of the more than 500,000 people making their living from Ebay, someone who is striving for self-employment, sells product from the trunk of your car, or from a 100,000 square foot warehouse, then http://www.WholesaleU.com is the website you need to visit. The featured wholesale suppliers cater to customers in any stage of their business development.
It really is a resource site you don't want to miss out on. Sign up today and receive free $20.00 Bonus in Recognition of Fathers day and Memorial Day. 
Contact:
WSHP Communications
Wholesale U
Toll Free: 1-800-779-2339
Website: http://www.wholesaleu.com
Email: sales@wholesaleu.com
###