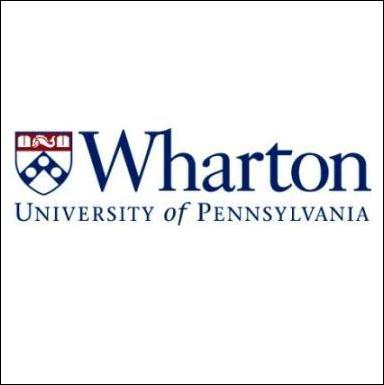 WASHINGTON, DC (PRWEB) May 31, 2005
Wharton Executive Education will host a program this month to examine strategies for "Working with Government" on issues from Sarbanes-Oxley to Homeland Security. The Wharton Fellows program will be held June 26-28, 2005, at the Ritz Carlton in the Georgetown neighborhood of Washington, DC.
The three-day "Master Class" will feature sessions with high-level government leaders, business executives and other experts who will offer perspectives on a wide range of current issues. Among the highlights:
• Inside Insights on the Political Agenda: During a lunch session on Capitol Hill, US Senator Rick Santorum will examine President Bush's agenda and its impact on business. Santorum, R-PA, is Republican Conference Chairman, the party's third-ranking leadership position in the Senate. He is one of many speakers who will offer perspectives on the current agenda and dynamics of Washington politics. Among other speakers are Alice Rivlin, Brookings Scholar and first director of the Congressional Budget Office; author and professor Amitai Etzioni, who served as Senior Advisor to the White House on domestic affairs from 1979-1980; and Patricia McGuiness, President and CEO of the Council for Excellence in Government, a non-profit organization focused on improving the performance of government at all levels. The Fellows also will meet with top Congressional aides, the Stennis Fellows, who are helping to develop current legislation.
• Corporate Governance under Sarbanes-Oxley: A panel of experts will offer an inside examination of one of the most significant changes in corporate governance in recent history. This panel includes Steve Harris of the Senate Banking Committee, who was a staff member of Senator Sarbanes during the drafting of the Sarbanes-Oxley Act; Don Nicolaisen, Chief Accountant of the SEC; and Douglas Carmichael, Chief Auditor of the Public Company Oversight Board (PCAOB), the organization created by Sarbanes-Oxley to oversee the auditors of public companies. The panel will be moderated by Wharton Professor Tom Donaldson.
• Reinventing Government: Leaders of the IRS and Department of Homeland Security will discuss fundamental overhauls of government organizations. One of the most significant recent changes in government structure has been the creation of the Department of Homeland Security. Jim Loy, Deputy Secretary, will provide insights from his experiences in helping to lead this transformation. Charles Rossotti, former IRS Commissioner, will discuss lessons from his successful transformation of the agency's antiquated IT and management systems.
• Lessons from Lobbying: The final panel will offer diverse perspectives on lobbying in Washington with Ed Ingle, Senior Director of Legislative Affairs at Microsoft; Steve Parrish, Senior Vice President of Corporate Affairs and chief lobbyist for Altria; Larry Burton, Executive Director of the Business Roundtable, John Backmann, Vice Chairman of the US Chamber of Commerce; John Endean, President of the American Business Conference; and Bob Holland former president of the Committee for Economic Development. The panel is moderated by Lou Capozzi, Executive Chairman of the Publicis PR and Corporate Communications Group.
Other topics that will be covered include: managing contract and reputation risks (featuring Wharton Fellow Margery Brittain, VP of MetLife; Mary Karen Willis of Beers and Cutler; Emmet (Buzz) Lewis of Miller and Chevalier; and Trisa Thompson of Dell.); the government marketplace (featuring Wharton Fellow Michael Tyrrell, former CFO of In-Q-Tel; Bill Loomis, Managing Director of Legg Mason, and Mark Myers, former Senior Vice President of R&D at Xerox and working with state and local governments (featuring Professor Bob Inman and consultant and author Joel Kurtzman). Fellows will also participate in a dinner at the National Geographic Society, hosted by Wharton Fellow Christopher Liedel, CFO of the Society.
"Fellows will have an opportunity to get inside the Beltway to hear firsthand about some of the most pressing government issues of our time," said Fellows Academic Director and Wharton Professor Jerry Wind. "Decisions about these issues will have a tremendous impact on life and business in the U.S. It will give participants a better understanding of how to work with government as well as lessons about transformation that they can apply to their own organizations."
The Wharton Fellows program is a unique post-graduate executive education program. This lifelong learning network of faculty and executives from diverse industries around the world examines key emerging issues in the business environment and organizational transformation. Throughout the year, Fellows gather for short "Master Classes" in different parts of the world, centered on living cases with senior executives of top companies. Recent executive education programs have examined growth strategies with senior leaders of Starbucks, Costco and Microsoft in Seattle; the entertainment industry with executives from Fox and Mandalay Entertainment; Japanese and Chinese business with senior executives of Toyota, Canon and Shanghai Bank in Tokyo and Shanghai; and Indian markets and outsourcing with leaders of Infosys, Tata Motors and Hindustan Lever.
The Wharton School of the University of Pennsylvania is recognized around the world for its academic strengths across every major discipline and at every level of business education. Founded in 1881 as the first collegiate business school in the nation, Wharton has approximately 4,600 undergraduate, MBA, Executive MBA, and doctoral students, more than 8,000 participants in its executive education programs annually, and an alumni network of more than 80,000 worldwide.
Contact:
Meghan Laska
215-573-0757
mlaska@wharton.upenn.edu
Wharton Communications
###