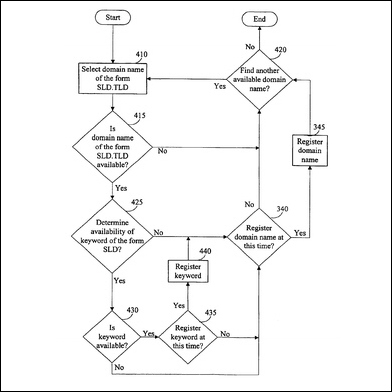 We are currently pursuing licensing opportunities and all other available legal remedies regarding the patent portfolio
Cleveland, OH (PRWEB) June 1, 2005
As domain name registration providers are becoming more competitive, an independent inventor from Ohio has been advancing the state of the art and filing dozens of patent applications since 1999 regarding his discoveries and technologies. Yesterday the U.S. Patent and Trademark Office issued U.S. Patent No. 6,901,436 (the '436 patent) to Eric Schneider, the Ohio inventor, for a METHOD, PRODUCT, AND APPARATUS FOR DETERMINING THE AVAILABILITY OF SIMILAR IDENTIFIERS AND REGISTERING THESE IDENTIFIERS ACROSS MULTIPLE NAMING SYSTEMS making it the seventh patent of a growing portfolio of Internet-related patents received by Mr. Schneider. A landmark search engine patent was secured by Mr. Schneider two weeks earlier.
According to Schneider, "The increase in the number of separate registerable naming systems having identifiers such as domain names, internationalized or multilingual domain names, fictitious domain names including top level domain aliases, trademarks, custom telephone numbers, vanity license plates, Internet keywords, screen names, usernames, reseller/affiliate names, and so forth poses a growing problem for businesses and individuals with regard to managing their brand identities. The '436 patent changes this by specifying tools to assist users with their brand identity by enabling the simultaneous registration of similar identifiers across two or more separate naming systems through a single interface."
Another aspect of the '436 patent specifies automatically generating identifiers that are available for registration in response to logging into a user account, where the generated identifiers correspond to an account username and/or any associated user account information.
According to Michael DeAloia, Senior Executive for Technology Development, the City of Cleveland, "With Mr. Schneider's technology one can order a telephone number or vanity plate and a matching domain name at the same time. It is encouraging to see that innovation is alive and well in Cleveland."
"We are currently pursuing licensing opportunities and all other available legal remedies regarding the patent portfolio," said Schneider. "The issuance of the '436 patent is an occasion for name registration providers to learn more about how this technology can help their business and their customers."
Publications from companies such as IBM, Microsoft, Lucent, Sprint, Unisys, Hitachi, NEC, Napster, Roxio, Interland, Register.com, SnapNames, Weddingchannel.com, Yodlee.com, AirClic, Metro One Telecommunications, Sharewave, Search Mechanics and others have cited Schneider's patents.
Contact:
Eric Schneider
216-231-2400
http://gen-eric.com/6901436
http://gen-eric.com/patents
# # #